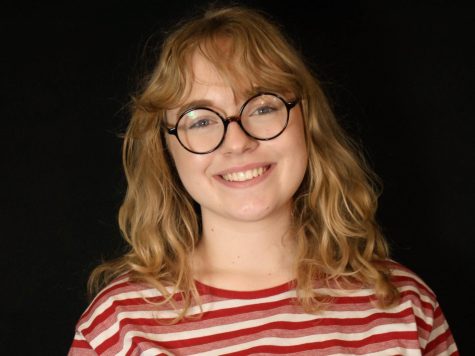 Madison Bruce is a first year reporter for the Highland Piper and a current Sophomore. She describes herself as analytical, and is always creating. Her background in writing stems from her experiences in second grade, where she was known to write thirty page stories. Inspired by outside influences, her mother was "always reading," admitted Bruce, "She would always tell me what's going on in her books. So instead of the reading part, I took the writing part."  Currently, the subject of her writing varies but always comes back to a central theme of people. "I like to know how people feel, and what matters to them," Bruce said during an interview, "Just people in general."
It was "people in general" that sparked Bruce's interest in joining the Piper. She hopes to use the opportunity to "get to know" a lot of people better within the school. Paired with a wish to improve in her writing, she feels prepared and "excited" for the year to come.
Outside of school, she paints, and plays with her four dogs, Kahlua, Zoe, Arlo, and Gertie.
Madison Bruce, Writer
May 08, 2018

The Parkland School Shooting- What does it mean for Shorecrest Students?

(Story/Media)

Mar 16, 2018

Shorecrests Favorite Shows and Movies

(Story)

Mar 16, 2018

Fun things to do In The Seattle area

(Story/Media)

Jan 30, 2018
Jan 30, 2018

Fashion At Shorecrest

(Story)

Nov 30, 2017

Race and Equity; Is it okay to sit, stand, or kneel during the Pledge of Allegiance?

(Story/Media)

Oct 31, 2017

Mr. Shorecrest: Is It Offensive, and Does It Need to Change?

(Story)