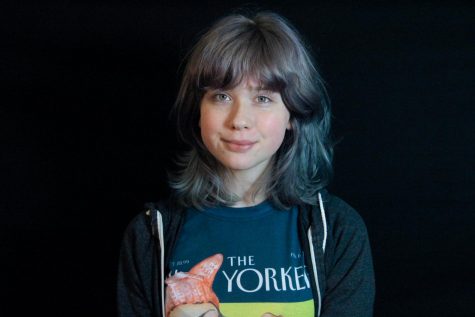 Junior Mara Amole found her love and talent for writing while crafting a poem in second grade. Her early experiences continue to influence as a writer in high school. Mara is heading into her second year as a member of the student publication 
Tattoo 
and is now trying her hand at Journalism as a Highland Piper staff member. Mara enjoys writing about politics and activism and will let that interest shine through in this year's contributions to the Piper.
Growing up with a book in her hand, Mara found great joy in exploring the high fantasy literary genre, which developed into a love for science fiction books that have hints of social justice tied into their plots. She lets her favorite books inspire her work, writing fictional stories that have a political twist. In fact, she hopes to be a novelist someday. More currently, Mara says she has, "been trying to work on non-fiction articles connected to politics."
Outside of reading and writing, Mara listens to post-rock alternative music and soundtracks, plays viola, and dies her hair fun colors. Born and raised in Seattle, Mara has two cats, Pico and Appa, and a sister. Before school started this year, she went to Geek Girl Con and Pride, and did some volunteering. In addition to Journalism, her favorite class is history, as she gets to explore the politics and stories that shape our world today. "It has a similar aspect to learning stories," Mara says about the school subject, "and a lot of my favorite books are based off of history." Mara is a valuable member of our Highland Piper team and will offer a unique perspective to our school newspaper.
Mara Amole, Writer
Mar 16, 2018

10 Reasons to Register for Journalism

(Story/Media)

Feb 14, 2018

10 Tips to Conquer the New Semester

(Story/Media)

Jan 18, 2018

Shorecrest's Option for Non Binary Bathrooms

(Story/Media)

Jan 16, 2018

How the Legalization of Marijuana is Affecting Shorecrest Students

(Story/Media)

Nov 30, 2017

Why the ASB fee is Worth it

(Story/Media)

Nov 02, 2017

Community Mosque Vandalized

(Story)

Nov 01, 2017

How Shorecrest is Preparing Students for an Evolving Workforce

(Story)