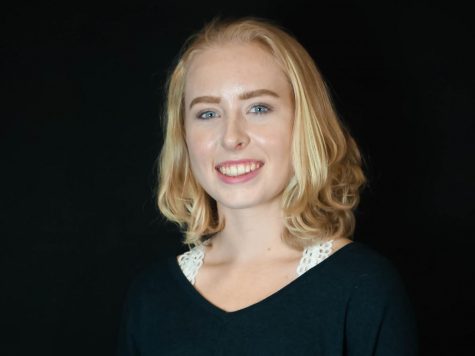 Sophia is one of our most experienced writers for the Highland piper.  This is her second year as editor of the Piper; a difficult job which she has been performing with practiced skill and genuine passion.  
Sophia has been writing all her life, and her ability in the field extends beyond writing news articles, "I've been writing my whole life," she says, "I usually write everyday; it helps me relax."  In fifth grade she began writing stories and is always working on a novel.  Recently, she is exploring the impassioned medium of poetry, "I like being able to play with the words in a non-literal way," she explained, a valuable contrast to writing for the paper.
Apart from writing, Sophia spends her time in a variety of ways.  Her preferred genre to read is realistic fiction, "I like things I can relate to," she explains.  Beginning in eighth grade, Sophia found an ardent love for running.  She now participates in cross-country and track at Shorecrest, and plans on continuing into the future, "I'm going to run in college," Sophia says, "My two biggest passions are writing and running."  In school, her favorite subject is history.  She likes to be creative in her learning. History class allows this indulgence. Sophia has three cats which she adores; their names are Joey, Olive, and Hazel.  Her favorite food is anything Italian and pasta based.
Sophia will continue writing after high school.  She plans to major in journalism and minor in political science and pursue a career in journalism.  "I think there's so much wrong with our political system, especially today."  Sophia says, "I just feel that because writing is something I've always done, it's an easy way for me to help change things if I can."
Sophia Gamble, Editor
Mar 16, 2018

Although a 2020 Trump victory seems unlikely, so did a 2016 one

(Story)

Mar 16, 2018

Gap Years: Pros, Cons, and How to's

(Story)

Jan 16, 2018

Mental Health Problems and Stress: the epidemic targeting high schoolers today

(Story/Media)

Jan 16, 2018

Spotlight on Community Service

(Story/Media)

Dec 01, 2017

Cross-Country Pulls Off a Second Revolutionary Season

(Story)

Nov 30, 2017

Tennis Sails to Success

(Story)

Nov 30, 2017

Football Plays a Breakthrough Season

(Story)

Nov 30, 2017

Volleyball Experiences a Rewarding Season

(Story)

Nov 30, 2017

Girls Swim & Dive Ends Their Season Victoriously

(Story)

Nov 30, 2017

Girls Soccer Reaches Their Goals

(Story)

Nov 01, 2017

Athletics: How Sports Change Lives

(Story)

Nov 01, 2017

Otis: An Inside Look at Shorecrest's Mascot

(Story)

Mar 15, 2017

Shorecrest Supports International Women's Day

(Story)

Jan 30, 2017

A 2016 Retrospective

(Story)

Dec 12, 2016

New Faces – Claire Hinman

(Story)

Dec 06, 2016

Strong, Peaceful Message in Shorecrest Protest

(Story)

Dec 06, 2016

New Faces – Ian Powell

(Story)

Dec 06, 2016

New Faces – Nicole Haines

(Story)

Dec 06, 2016

Cross Country Rocks Region

(Story)