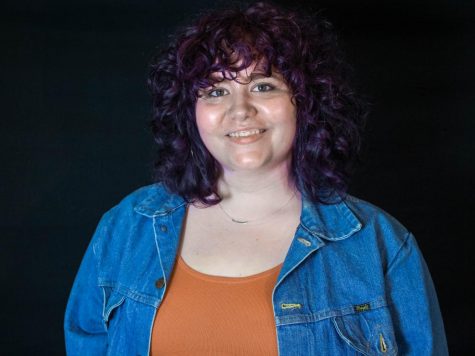 Sophie Engle is a senior. From her vast knowledge about arts to her ever-changing nails, she has lends those talents and more to the Shorecrest Piper this year. On most days, you can find her at the Seattle Art Museum giving tours to elementary classes. She enjoys leading groups through the museum. "It's my job to help them understand [the art] and give them more knowledge." Engle recalls her favorite SAM exhibition, saying, "They had an exhibit by Kehinde Wiley which had these massive portraits of black men and women in traditionally powerful poses." Growing to appreciate art even more, her commitment to the program began her Sophomore year. 
Engle also works with the YMCA Youth and Government program to help 
create bills and debate over public policy issues. In May, the delegation travels to Olympia to debate their bills in the House and Senate chambers. The program focuses on public speaking skills and knowledge of current events. "It has helped me to become a better public speaker," says Engle. "Before I started the program, I was always nervous to speak in front of groups. But now it's a breeze."
Engle is very involved in her community, serving as a Youth Board Member on the Dale Turner YMCA Board of Directors. "It has really opened my eyes to the needs of the community around me and has gotten me more involved in community service," Engle states. She appreciates the work that the YMCA does for the community; it creates a lot of food banks, homeless shelters, and kids centers.
Besides all of her extra-curricular activities, she enjoys music and books. Boasting an impressive music playlist, which contains over 300 songs mostly from the 1960's and 70's. "I
 really like Led Zeppelin, it's a little more Rock n' Roll." She states, "I play it basically everywhere." She is excited to bring all of her talents and interests to the Highland Piper this year. 
Sophie Engle, Writer
May 08, 2018

Track Preview

(Story/Media)

Mar 16, 2018

My Non Profit Experience

(Story)

Jan 16, 2018

High School: College Prepatory or Schmepatory

(Story)

Jan 16, 2018

Fiona: The Famous Hippo

(Story)

Nov 30, 2017

Lunch: Shorecrest's Favorites

(Story/Media)

Nov 01, 2017

A Beginner's Guide to AP Classes

(Story)

Oct 30, 2017

10 Tips for a Successful Stay at Shorecrest

(Story)