Girls Soccer Reaches Their Goals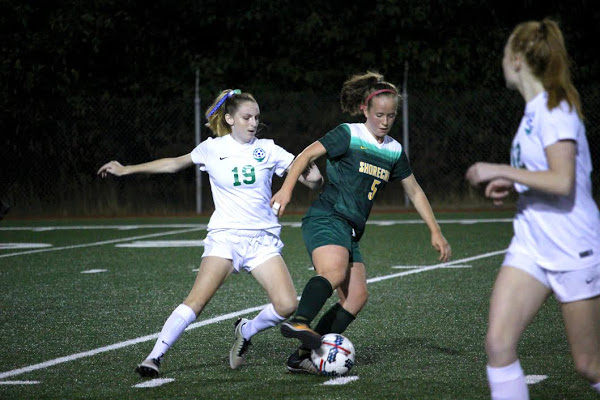 Making it to state after their November 4th win against Marysville Pilchuck at districts, the Shorecrest girls soccer team marked their eighth straight year of state qualifications. Unfortunately, their competition ended after their first game, where they lost 2 to 1 against Seattle Prep. Still, being able to compete at state was a feat itself, considering how much they had to grow as a group this season.
With rocky beginnings, the players battled many challenges, including injuries. While some impairments were small, others were serious. Three members of the varsity team were recovering from ACL injuries. "With the amount of injured people we've had out this year," says senior captain Sydney Brandt, "it's been hard to watch them just sit on the bench when you're out there playing. And they obviously feel just as much pressure."
Integrating new players was a challenge. With only two returning starters, and outsiders joining the varsity team without playing JV first, a lot had to be learned before the team could find success. "We started the team so young in experience," says senior captain Laura Hoover, "A lot of people didn't get to phase into it, they were just thrown onto the field and it's like this is you, you're playing." All of the girls have worked hard to get better and make their new team proud. "They've stepped up and improved so much from the beginning of the year," senior captain Maggie Taylor explains.
Despite early struggles, it didn't take long for the team to gain momentum. The results of their diligence and ability to overcome were made evident on October 5th in their away game against Everett. Shorecrest won the game 1 to 0. Although they had prior victories, Brandt describes the win as a turning point in their season. "We really came together for that one," she says, "I think we fought really hard for that win, and that brought us together." The game offered the athletes a chance to practice working through distractions allowing players to focus on helping out one another. "There were a lot of other factors of the game that people don't realize," explains Hoover, "like the fans and the rest, and you can't control them. But, you still have to come together and realize that you're playing for the game and not anything else." Learning to push boundaries made for an amazing season.
Senior Night was a big moment for the team. Needing to win the game, not tie, in order to move onto districts, they played with "emotion and heart," says Taylor, to come out victorious against a team one seat higher than them. And of course, for the seniors on the team, she says, "[that] night was a huge moment for us."
If not for some new star players,Freshman Mimi Currah and junior Maya Hunt, these wins would not have been possible.  "Mimi and Maya are the newcomers who have definitely contributed a lot in every aspect and are game changers," says Brandt. Still, all players have seen improvements. "Every single person on the team has grown this year," says Taylor, proud of all the work her team has put in this season. "The team honestly becomes like a family. We get so close."
This soccer season has been one of great success for our Scots. Achievements were not easily won this soccer season, they were born from grit, hard work, and tenacity demonstrated by the athletes. "It's not even about wins and losses," says Taylor. "It's about getting better, and being nice to each other, and working hard on the field."