Girls Swim & Dive Ends Their Season Victoriously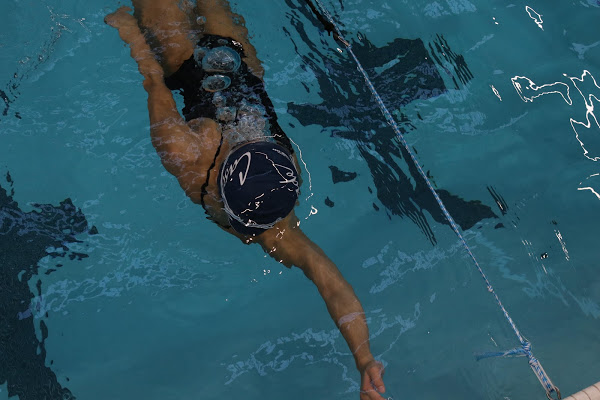 The girls swim and dive team had an incredibly exciting season. With success all around, the girls most notably won their district's meet. "That was the most exciting thing," explained senior captain Ailey Childs, "getting to go onto the podium." Districts was a hugely prosperous swim for the athletes, "our entire team made it back to day two," said senior captain Gabby Harness, "and at day two, people did really well." Stellar performances included sophomore Jessica Perez, who dropped 20 seconds in the 500 yard swim, and sophomore Paige Moss, who swam a fast one-minute in the fly.
But for many, there was more to come as athletes moved onto state competition. Star swimmer, sophomore Gia Lanava, qualified in all three of her events. "She's the fastest swimmer on our team," explained Harness. Fellow qualifiers were sophomores Anna Sargent, Jiahui Zeng, Marina Or, Kirsten Bjerkeset, Julia Neils, freshman Abby Crum, as well as Perez and Moss.
The team has a lot of members, and are constantly acquiring fresh athletes."We have a lot of new swimmers this year," says senior captain Rachel Thummel. Stand-out rookies included freshman Lexi Edwards, who was a state alternate, senior Haley Larson, who made varsity, and JV freshmen Liberty Holland and Margot Nichols. "All of them came with not knowing a lot but they improved so much and it was really good to see them grow as swimmers," explained Thummel. By the end of the season, Nichols was swimming in the varsity lane.
No team can complete a season struggle free. The swim and dive team dealt with nagging shoulder problems that plagued many of the swimmers, and sickness that spread through the team. But not all problems were merely physical, having such a large team has its drawbacks. "In general it's hard to bridge the gap between JV and Varsity," said Childs. Difficulties included "trying to be inclusive of everyone and plan events as a team," according to Harness, but they succeeded in planning a fun bonding event that everyone showed up to. "It's cool," says Harness, that unlike in other sports, "we can practice with [the JV team] and get to know them."
After the state meet, a season of success came to an end, and for the seniors, so did their high school swim careers. "It's kind of sad," said Thummel in regards to the fact that she'll never swim for Shorecrest again, "I don't think it's really hit me yet." They'll miss the sport, but the seniors know that with such a young team, Shorecrest swim and dive is headed in only one direction: up.