Football Plays a Breakthrough Season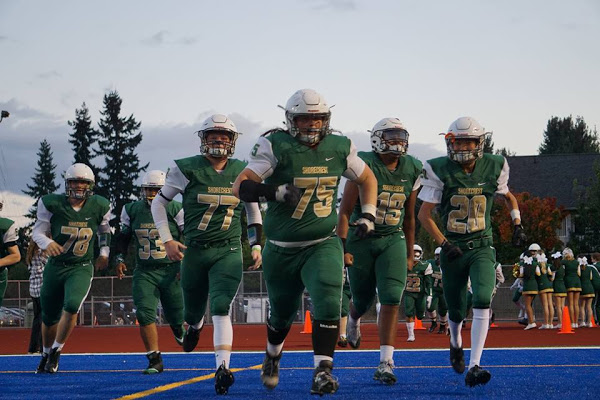 Achieving an even winning to losing record is just one sign that the Scots made huge improvements on the field this year. "It was different from other seasons," said senior captain David Selzler, "we were more successful than other years." Senior captain Jackson Jones remembers his favorite part of the season, their September 1st victory against Interlake. "That was the closest game we had," he said, the two teams ended up competing in overtime, "we just came out on top." After losing 0 to 40 against the same team the previous year, this was a large indicator of the team's growth.
The team's quick acceleration to the top caught players off guard, they had to adjust to their newfound greatness. "I think we struggled sometimes with just accepting the fact that we were better than years past," said senior captain Max Long. Our Scots may have been equal adversaries to some of the best teams in the league, but a few shortcomings may have contributed to their unrealized success. "If we had consistently played with a better attitude," Long explained, "our record would have been much more representative of how good we were."
Members of a team are always interdependent on one another, the loss of some key players this season was a hinderance to Shorecrest's performance. Two seniors, Selzler and Sadath Aboudou were injured and unable to participate before the season even began. "We missed [Selzler] on the field this year, but we know he would have done big things," said senior captain Rico Dellaguardia, "[Selzler and Aboudou] had motivation for the sport too, they loved it, but we have to deal with those things." Despite the tragedy, players are aware that injuries are to be expected. "That's probably one of the biggest aspects of the game of football," said Long, "and I think any team has to be prepared to lose a key player because of injury." That preparation he speaks of is necessary for any team to find success in the sport. "What makes a team good is how they respond to [injury]," he continues, "that's really what separates good teams from bad teams."
Other players were out of the game for different reasons. "Some of the teammates were making bad decisions, doing dumb things," said Dellaguardia, which caused them to be exiled from the sport at different points in the season. Both situations fostered rough patches for the team, but it only made them stronger. "We all had to overcome it and figure out what we had to do to move on to the next week and the next game without those people," explained Dellaguardia.
Despite some bumps in the road, all problems were forgotten at the big Shorecrest vs Shorewood game in which the Scots emerged triumphant. "That was pretty fun and memorable for our senior year," says Dellaguardia, "because it's our rival team and we got the [win]." The big game draws fans from both high schools, who fill the stands with their enthusiasm and cheering. Being such a great spectator sport, those watching the game can have a huge effect on the players.
The rumble of clapping, hollering, and cheers often gets drowned out in the head's of the players, as they choose to focus on their competition. "It's best to just get your head in the game and not care about it," says Jones, who prefers not to let fans distract him. All captains agree that the student and staff support they receive fires them up for competition, but when that support is lacking, they do take notice. "You don't know when they're there," said Long, "but you know when they're not there."
Huge advances made by the team this year came from individual gains. Senior running-back Ricardo Ruiz began improving a lot at the end of last season. "Our last game [of the previous season], he just had an amazing game," explained Dellaguardia, "and then it went forward this year with his playing style." Senior Lineman Taylor Oxford has also made exciting strides due to his revitalized drive and determination. "This year there was a fire, there was something in him that made him dedicated to our team and actually made him want to play hard," complemented Jones, "he became a wonderful asset."
Through their hard work as captains, the boys have a lot of faith their team will do well after they leave this year. "We just wanted to lead by example. I'm not the type to fire people up," said Jones, who would rather practice but not preach good sportsmanship. He focused mainly on working hard at practice to help inspire the younger players. When a captain slacks off, he says, "the rest of the team begins to feel that and everything slows down, and you have to try to get away from that." Losing the current captains will be hard on the team, but others will step up. "I'd expect next year's captains are going to be a little louder," thought Long, "they're a much hyphier group." He can't wait to see how the excited and optimistic junior Mohammed Al-Jabiri leads the team. "Just seeing that guy's attitude," said Long, "that just puts me in a better place."
A new generation of leaders will guide the team to success next year, and this year's seniors know that the players they are leaving will break lots of boundaries in future seasons.  "I feel like we started something and next year they're going to add to it," explained Dellaguardia. However, they do wish that the team would have been able to overcome their challenges more effectively. "I don't think our record was representative of how good we were," admitted Long. Armed with the inspiration of this year's captains, the Scots believe they will build off of their growth this season and become something truly great. Any little amount of improvement is worth it, and this season was just the type of thing Football needed to launch itself towards future victories. As Jones says, "There's small moments that make the most difference."
As this season ends, the team has few regrets. "I'm definitely happy with the outcome," said Dellaguardia. While they didn't make it to the playoffs, the team still feels great about how far they have come this season.