Tennis Sails to Success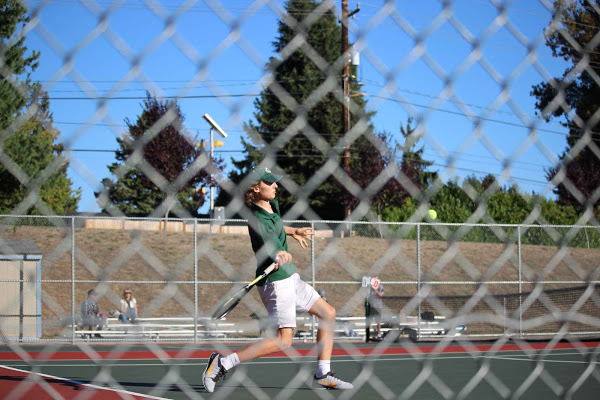 Led by senior Christopher King as the sole captain, the boys tennis team excelled this season in cohesiveness and skill. "The most exciting part was just getting to know all the guys on the team and developing really strong bonds, and all just having a great time together," said King.
The Scots made up for losing last year's seniors through the freshmens' amazing efforts. One new key player was freshman Ben Silber, who qualified for state playing doubles with junior Reed Tangeman, "[Ben] is pretty good, he's a cool guy," said King. The other state qualifier was junior Faiz Khan, playing singles. Unlike most sports where state athletes compete a week or two after qualifying, boys tennis plays state in spring, at the same time the girls team competes at state. After their District Championship match in October, Silber, Tangeman, and Khan must continue playing through the winter in order to stay prepared.
The team smoothly sailed through their season, keeping away from injuries and conflict. "Everyone gets along," explains King, "which is really great."Common injuries for tennis players usually involve ankles, as they pivot and step countless times in order to succeed in their matches. The biggest dangers to ankles are "playing [when] it's wet," said King, and "rolling your ankles if you step on a ball." Being a relatively low injury sport, mental strength and focus really become the determining factors of success in tennis. The hardest part of the sport is, "making sure that you're 100% focused," commented King, "because even [if] you lose focus for a second, that can ruin your point or ruin the whole entire match." That is something the team works on everyday in their practices, and a skill King, who has been playing for five years, certainly knows a lot about. "You can't be thinking about anything else, just focus on what you're doing," he said.
And this focus is something that the boys have learned to love. Kings favorite part of the sport is that, "you're able to get in your zone and really think. I feel like it's a calm and collective sport," he explains, "it's working on bettering yourself and bettering your person and how you can become a better player." Many Shorecrest tennis players used focus and determination to get better. Two juniors, David Chen and Samuel Rowbotham, who play doubles, have "definitely improved," according to King.
At the end of the season, the team remains happy with their success and ability to work together. "I was impressed with all the performances and what the guys did," compliments King, "we're sending two teams to state, so that's really good."