Cross-Country Pulls Off a Second Revolutionary Season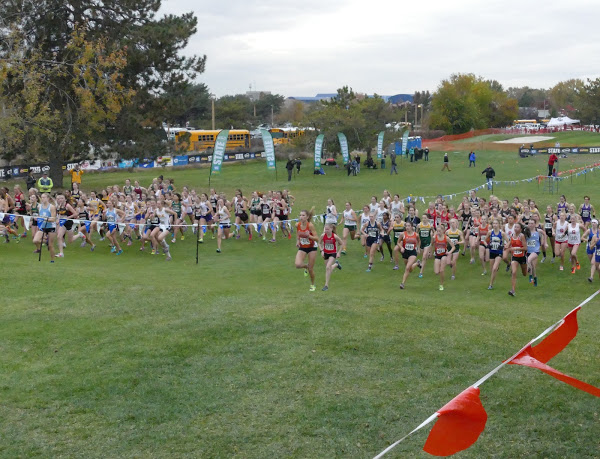 Over two-decades after the Scots girls cross-country team last made it to the state meet, our current girls had a breakout season in 2016 and qualified once again. The boys sent three members to the state competition, finding larger success than years past. Riding the wave of last season's victories, the cross-country team went into the 2017 season with confidence and a ready-to-compete attitude. "We actually knew what we were capable of and tried to reach our full potential this year," said junior captain Lauren Block. "I had a lot higher expectations," agreed junior captain Spencer Thurman.  
And the team did act upon those heightened goals; the girls winning four out of their six in-season meets and placing second at the other two, and the boys placing second at four out of their six in-season meets, and winning the remaining two. "I thought it was pretty exciting before post-season because that is when we were winning meet after meet after meet," said Block, "which was really fun and kind of gave us the confidence to go into post season and race our best." On September 28th, in their meet against Mariner, Lynnwood, and Mountlake Terrace, the girls team achieved a perfect score of 15. This is a rare and difficult task which requires a team to get all five of their scoring runners across the finish line before any other runner of another team.
Two of the most exciting in-season meets are the Seaside, and Leavenworth Invitationals. An invitational is a large race including several teams from all over Washington, and sometimes other states in the region. These races have a podium, giving runners and teams a chance to place (unlike in regular meets, which are against just a few other teams in the league). Traveling to Seaside, Oregon on Friday September 22nd, the team raced the following morning after staying the night in the small coastal town. "It's a place that's super fun and you get to hang out with all of your close friends, and then you get to go run a fun race," said senior captain Kent Scollard. Both teams did well at the race, with the boys placing second, and girls taking first. Runners also traveled to Leavenworth, Washington in pursuit of even more victories. They found the success they were looking for nestled in the rolling inclines of the cascade mountains; girls placing first, and boys second, on the notoriously hilly course.
In post-season at the districts course, both girls and boys battled it out in the hopes of qualifying for state. After a tough race, the girls qualified as a team, made up of juniors Lilly Visser, Lauren Block, Livia Glascock, Delaney McCormack, and seniors Sophia Gamble, Ronna Iverson, and Heather Desrosier, including three individual qualifiers; junior captains Lilly Visser, senior captain Sophia Gamble, and Block. Missing the qualification by a single point, the boys team still sent two individuals to the state meet; junior captain Erik Luu, and Thurman. "The week starting from districts to state, that was a really fun week," said Thurman, "because it was fun qualifying for state and training, and then actually being at state and running with the team was cool." High stakes may scare some runners, but others are eager for the chance to compete. "Post season meets are always really exciting," agrees Visser, "because you get closer with the people you're running with, and there's stuff on the line that you can qualify for and it's a good time to [get a personal record]."
The team headed four and a half hours across the state to Pasco, where they ran the highly anticipated state race. The seven Shorecrest girls shot off the starting line in chilly 40 degree weather, and finished eighth out of sixteen teams. Although the girls placed five spots lower than the previous season, five of them ran personal bests. "The field was way more competitive than expected," said Block, "but we were able to rise to the occasion and run some fast [personal records]." Several teams had improved from last year, and some had even entered into 3A from 4A, loading the meet with highly ranked competitors. "There [were] definitely a few challenges when it came to competing against a higher level of competition this year and dealing with the cold weather," Visser concludes. Both Thurman and Luu ran personal records, placing 73rd and 78th out of 160 runners, respectively.
Eight runners, Visser, Block, McCormack, Gamble, Glascock, Luu, Thurman, and senior Zeth Peterka, drove nine hours to Boise, Idaho after State to run at Nike Cross-country Regionals Northwest. Among heavy competition, it was an amazing experience for these young runners.
Being such a highly competitive sport, cross-country wields many injuries. Several runners dealt with injuries, aches, pains, and other struggles throughout the season. Scollard, who had an ankle injury at the beginning of the season, said that "at like the first three practices I twisted my ankle, all three practices." Thurman suffered IT band pain just as post-season began. "Getting injured right before WESCO [Championships] and then having to deal with that for the rest of the season was tough," he said, "but I powered through." On top of this, Visser and Gamble worked through hip injuries, while McCormack fought off shin splints and still courageously ran almost every race.
But injuries aren't the only issues the runners faced. Being such a mental sport, cross-country can become emotionally draining. "My greatest struggle…was as the season went on it got really hard mentally, and I got really tired physically," describes Luu. "As the season goes on, everyone gets more tired," adds Block. Although she ran amazingly as the season progressed, Visser had some early problems with catching up to her teammates. "I did not get a lot training in over the summer because I was gone," she said, "it was definitely hard for me to come back from that and run a certain amount of miles each week when I was behind my teammates."
With so many improvements this season, there were many runners that added to the team's success. Freshman Jeffrey Seymour showed off his talent, running at the top of JV. "He has lots of potential," compliments Luu. Freshman Naomi Kolmer also made great strides, running as an alternate for the girls varsity team. She "ran great," Block pointed out. Shocking the team with unexpected speed isn't just for freshmen, two seniors made strides this season to improve themselves. Peterka "really worked his butt off this year, got rewarded for it, and had a great season," said Thurman. Scollard mentioned Senior Jason Sorg, who "really came into his own this year."
The athletes are important, but it's the coaches that give them a base for their potential. Head cross-country coach, and Shorecrest athletic director and teacher Lane Loland is retiring after this year. He will be missed by students and athletes alike. "I'd like to shout-out Mr. Loland," commended Luu, "for all these years that he's coached us and all he has done, not only for us, but also for Shorecrest."
Overall, the Scots were very happy with their season. "I gave my best at state and had an overall good race," said Visser, content with her performances. For others, it wasn't the racing but the community that made the season great. "The responsibility of being a captain was what defined this year," said Scollard. The cause of such a great season, was our Shorecrest runners' ability to put hardships and struggles behind them. Because they know that once the starting gun goes off, the only thing that matters is getting to the finish line.