An Average Student Calculates Your Finances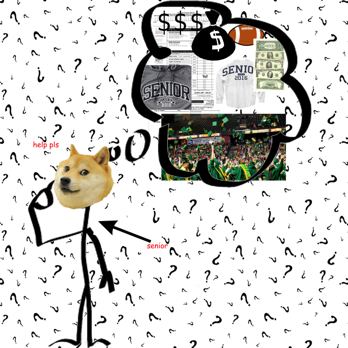 The new school year starts for both freshmen and seniors alike with various levels of excitement. Whether one may be a fresh upstart from the pooling middle schools, or the jaded veteran going into their last year, both have a common dilemma: spending money. And, especially for the senior class, the total cost accrued from the start of school through graduation is much more than a normal underclassman.
Graduating can cost a little or a lot depending on two main factors: events and merchandise. If you don't attend any events, buy a yearbook or get a senior ad, your senior year will only be the cost of the mandatory gown and cap that are needed for the graduation ceremony.
Other assumptions made are that the student will not take any Advanced Placement classes which require extra costs, ACT and SAT tests are also not free, along with field trips. However, for the lucky few who decided to splurge on an ASB card, or the procrastinating masses who pay extra for not pre purchasing, many games and events are often more expensive. Thus, prices may vary between students and the extra costs are not included in this article.
The cost of all possible games and events are listed below. Because of extra variables such as having an ASB card or various other discounts or increases, this represents the averages for each:
Football games: $12 per game, 10 games per season
Homecoming: $15
Senior blitz: $200
Fall/Spring plays: $13.50
Unknown/Miscellaneous Events: $12 per event, estimate of three events per semester.
Due to the number of unknown future events planned that are under a "To Be Announced" status, there is an added cost for the events. The list also excludes the highly anticipated Prom due to fluctuating costs in the previous years, making the total events cost lower. The total cost of all events listed above is $398.
Next, the costs of all merchandise and items sold is listed below. The term "merchandise" is defined as any items sold and distributed by and through the school as a means for spirit, school branding, or traditions.
Yearbook Annual: $55-75 (increments of $10, depending on when you order it)
Senior ads: $65-200 estimated, $150
Senior shirts: $20
Spirit Gear: $10-30
The additional costs of the merchandise are considered optional and are viable for a 10-20% discount with the ASB membership card. However, with a $40 fee, some may feel that the ASB card is not worth the money. The other issue with merchandise is that even though you are encouraged to buy these items you do not need to and they do not necessarily impact your High School experience. These items can also be bought multiple times so, showing a net total would be difficult and inaccurate considering the possibility that someone might decide to buy fifty Shorecrest hoodies to hand out to their family members. The only required item is a student cap, gown, and stool which retails at Jostens for $60.
With different events and personal interests, planning yearly finances are sometimes not a priority until the balance of a bank account becomes negative. One should remember to always leave a bit of spare change for that one last fee or a must have on the senior shopping list.