Top 5 At The Met Gala 2019: Fashion Galore
May 6th, 2019: The date of the prestigious, fundraising gala held by the Metropolitan Museum of Art's costume institute in New York City. To avid individuals keeping up with the media scene, the event was referred to as, "The Met Gala." To individuals not quite as enlightened, this event seemed to be a mere hosting of filthy rich celebrities grouped upon beautiful flooring while dripping in staggering, vibrant attire that seems as though it would take a millennium to undress from. As of these last few days, it seems as though the avant-garde, seemingly over the top styles of this year's Met Gala showing have been on non-stop display through Instagram posts, Snapchat stories, online sites, and tweets. Whether viewing a beloved star brandishing eye shadow palettes in preparation for the event or watching strangers pose for the paparazzi over live stream, the venue truly made a popular showing among teens, adults, and society. It seems as though, regardless of one's interest towards the world of Met, the venue has captured much attention, and will create a lasting effect on the 21st centuries views towards fashion and trend.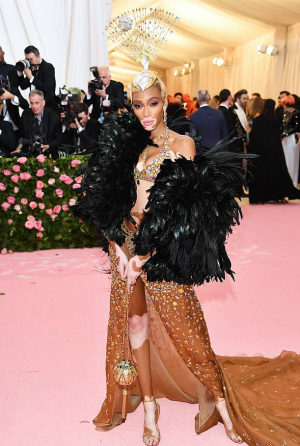 Known for its' reputation of bold expression, the Met Gala did not disappoint- boasting unique, jaw-dropping fashion statements that one wouldn't catch a glimpse of at any other venue. Though the Met Gala has been in place for nearly 71 years through its' original founding in 1948, I personally thought that this year's showing of the exhibit as well as the star's attire and unique, poem-based theme proved to be enormously memorable and timeless for Met Gala history. Now before diving straight into my top 5 favorite Met Gala looks of this 2019 showing, I'd like to cover a few bases regarding the intent, execution, and ideas of this year's esteemed phenomenon.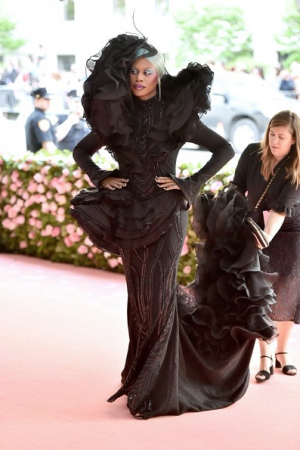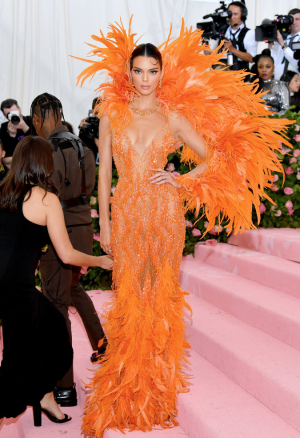 The Met Gala, formerly known as the Costume Institute Gala, is held by the Met museum in New York, and occurs annually on the first Monday of May. With its' role of being the only event that the museum hosts in order to raise funds for the Costume and fashion department, entrance fees are steep up the expense scale. Clocking in at nearly $30,000-$35,000 per singular ticket and around $200,000-$300,000 per reserved table seating, the gala truly accomplishes its' daunting fund goal- raising around $13.5 million dollars of proceeds. Ran by Vogue US editor-in chief Anna Wintour, the setting was also aided by co-chairs that she selected on basis of influence and message- this year's co-chairs including Lady Gaga, Serena Williams, Harry Styles, and Alessandro Michelle.
At the night party itself, the most successful of fashion designers, celebrities, singers, artists, and stars within the entertainment industry gather together. Unfortunately, space was quite limited at the event, and the maximum occupancy for attendees was only 500 to 600 people. For a rapidly expanding entertainment scene, this number proved quite intimidating. How did guests acquire invitations? Typically, a star would have had to benefactor or sponsor an aspect of the event, possess a high position within Vogue industries, have connections to an elite star, or simply be performing at the event itself in order to receive an invitation to attend. In addition to scoring a spot at the table, the stars spent double or even triple the entrance fee in order to purchase luxurious garments for themselves to boast through the scene.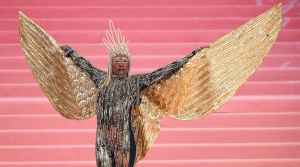 Every year, the Met Gala must commit to a theme of dress- this year's theme being "Camp: Notes on Fashion," a concept based on the 1964 poem, "Notes on 'Camp," written by American writer Susan Sontag. As for the exhibition itself, the Belgian scenographer and lighting designer Jan Versweyveld will be breaking the set into two parts: a set highlighting the origins of camp through Victorian slang elements as well as the different designer's interpretations of 'camp' shown through 175 art pieces (clothing on display, sculptures, paintings, etc). Through this theme of influencing exaggerated styles highlighting camp (political, "queer," pop) and designer's takes on camp mixed with Versweyveld's exhibitions of art, the 2019 set for the Met Gala was jam packed full of exquisite ideas. From here, I wish to showcase my own personal top 5 picks for timeless, iconic, and extraordinary pieces that stood out at this year's Met Gala.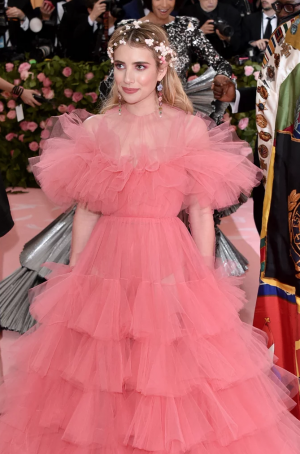 Choice #1: Winnie Harlow
Topping off my list at number one, Winnie Harlow's caribbean carnival- inspired look caught my eye immediately as the desert sand dune shade and billowing material showed off a sultry, dazzling shine. Embedded into the gown itself is a crystal and jewel centerpiece, as well as actual jewels that had been sent to Bali to get designed. The head dress she wore paired with the cutout garment drew much attention as well. The reason that I picked this look as first is because once I saw Winnie's attire, I couldn't bring myself to look away.
Choice #2: Laverne Cox
Falling in at second on my list is Laverne Cox and her dark cowl, enormous ruffles, and train. To me, this look felt sophisticated, beautifully done, and very sculpture-like. Pairing this ensemble  with a bold purple lipstick and teal eye makeup, Laverne creates a dreadfully bold, sinister look that just makes you want to be as badass as her.
Choice #3: Kendall Jenner
Taking home the silver, we have Kendall Jenner and her bright orange cocktail dress with dazzling sequins and an eye-catching feather headdress-like assortment. Burning up the floor with her bright dress, it was made quite clear that Kendall felt like a phoenix that night. I truly adored the playfulness and fun aspect of the sparkles, sequins, and feathers!
Choice #4: Billie Porter
In 4th, we have Billie Porter. Truly iconic and unforgettable, Billie Porter adorned himself in shiny, shimmery gold from head to toe- a headpiece, and most importantly, wings. Billie's look truly shut down the gala when he spread his arms out wide, revealing golden wings that boasted millions of individual sequins. I loved Billie's statement of gold, and what was even better was how he presented it: being carried atop a black throne by six equally gold men onto the gala floor.
Choice #5: Emma Roberts
Last but not least, coming in at number five, we have Emma Roberts. Emma Roberts truly looks adorable in her six layered tulle dress. Channeling her inner fairy princess, Emma showed off the dress in a beautiful pink, cherry-blossom shade while pairing it with white blossoms in a flower crown. Emma's look was truly gorgeous, and my favorite part about it was the long, multi-colored flower earrings that she wore along in addition to the pink shades of eye shadow.