5 Must-Read Books with LGBTQ+ Characters
Simon vs the Homo Sapiens Agenda by Becky Albertalli
"Sixteen-year-old and not-so-openly gay Simon Spier prefers to save his drama for the school musical. But when an email falls into the wrong hands, his secret is at risk of being thrust into the spotlight. Now Simon is actually being blackmailed. If he doesn't play wingman for class clown Martin, his sexual identity will become everyone's business. Worse, the privacy of Blue, the pen name of the boy he's been emailing, will be compromised.
"With some messy dynamics emerging in his once tight-knit group of friends, and his email correspondence with Blue growing more flirtatious every day, Simon's junior year has suddenly gotten all kinds of complicated. Now, change-averse Simon has to find a way to step out of his comfort zone before he's pushed out, without alienating his friends, compromising himself, or fumbling a shot at happiness with the most confusing, adorable guy he's never met." (Goodreads summary)
Simon is one of my go-to recommendations for LGBTQ+ books. It's adorable, funny, and enthralling. I don't tend to be a huge fan of contemporary fiction or "funny" books, but this book didn't bug me at all. The antics are never particularly cringey, and the overall vibe isn't comedic as much as sweet, though I'm sure others would beg to differ. Not only is it sweet and funny, Simon will keep you turning the pages, desperate to find out what happens to the characters you'll inevitably fall in love with. There's something in Simon for everyone!
Though it isn't part of a series, exactly, Simon has a few companion books: Leah on the Offbeat, The Upside of Unrequited, and Love, Creekwood (a novella). There's also a movie version, called "Love, Simon," which isn't too bad for a movie adaptation. I recommend that too!
Symptoms of Being Human by Jeff Garvin
"Riley Cavanaugh is many things: Punk rock. Snarky. Rebellious. And gender fluid. Some days Riley identifies as a boy, and others as a girl. The thing is, Riley isn't exactly out yet. And between starting a new school and having a congressman father running for reelection in uber-conservative Orange County, the pressure, media and otherwise, is building up in Riley's so-called "normal" life.
"On the advice of a therapist, Riley starts an anonymous blog to vent those pent-up feelings and tell the truth of what it's REALLY like to be a gender fluid teenager. But just as Riley's starting to settle in at school, even developing feelings for a mysterious outcast, the blog goes viral, and an unnamed commenter discovers Riley's real identity, threatening exposure. Riley must make a choice: walk away from what the blog has created (a lifeline, new friends, a cause to believe in) or stand up, come out, and risk everything." (Goodreads summary)
Symptoms of Being Human is a good introduction to the concept of gender-fluidity, perhaps oriented more toward people who aren't as familiar with that identity. When I read it, I knew much less about diverse gender identities than I do now, and it was highly informative. It's also not just an informative book; you'll also care about Riley and hope that everything works out for them in the end. I'd recommend it especially to anyone who wants to learn more about gender fluid people.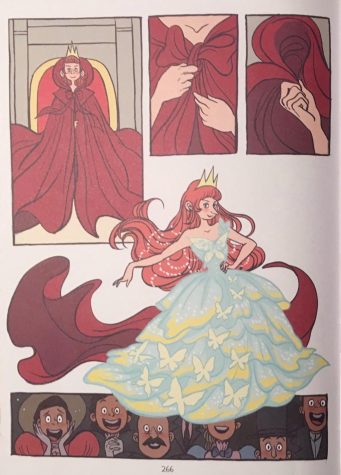 The Prince and the Dressmaker by Jen Wang
"Paris, at the dawn of the modern age:
"Prince Sebastian is looking for a bride, or rather, his parents are looking for one for him. Sebastian is too busy hiding his secret life from everyone. At night he puts on daring dresses and takes Paris by storm as the fabulous Lady Crystallia, the hottest fashion icon in the world capital of fashion!
"Sebastian's secret weapon (and best friend) is the brilliant dressmaker Frances, one of only two people who know the truth. Sometimes this boy wears dresses. But Frances dreams of greatness, and being someone's secret weapon means being a secret. Forever. How long can Frances defer her dreams to protect a friend?" (Goodreads summary)
I'm not someone who generally likes graphic novels, but this one is absolutely amazing and one of my go-to recommendations. It's so, so cute and happy to read. It has amazing characters, like Sebastian, who not only struggles with the difficulties of being a prince but also loves marmalade and sneaking looks at Frances's designs. It's also full of beautiful drawings and gorgeous dress designs, like the ones in the image at right. I highly recommend it to anyone who loves any of those things!
George by Alex Gino
"When people look at George, they think they see a boy. But she knows she's not a boy. She knows she's a girl.
"George thinks she'll have to keep this a secret forever. Then her teacher announces that their class play is going to be Charlotte's Web. George really, really, REALLY wants to play Charlotte. But the teacher says she can't even try out for the part because she's a boy.
"With the help of her best friend, Kelly, George comes up with a plan. Not just so she can be Charlotte, but so everyone can know who she is, once and for all." (Goodreads summary)
George is very similar to Gracefully Grayson, another book about a trans girl who tries out for her school play, but I think George is better, both as a book and also because it was actually written by a trans person. It's an excellent representation (at least, as far as I know) and it's also sweet, memorable, and an overall good read.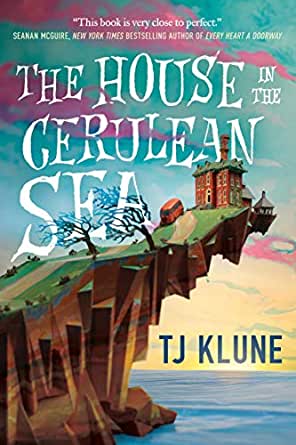 The House in the Cerulean Sea by T.J. Klune
"Linus Baker leads a quiet, solitary life. At forty, he lives in a tiny house with a devious cat and his old records. As a Case Worker at the Department in Charge Of Magical Youth, he spends his days overseeing the well-being of children in government-sanctioned orphanages.
"When Linus is unexpectedly summoned by Extremely Upper Management he's given a curious and highly classified assignment. He must travel to Marsyas Island Orphanage, where six dangerous children reside, a gnome, a sprite, a wyvern, an unidentifiable green blob, a were-Pomeranian, and the Antichrist. Linus must set aside his fears and determine whether or not they're likely to bring about the end of days.
"But the children aren't the only secret the island keeps. Their caretaker is the charming and enigmatic Arthur Parnassus, who will do anything to keep his wards safe. As Arthur and Linus grow closer, long-held secrets are exposed, and Linus must make a choice, destroy a home or watch the world burn." (Goodreads summary)
The House in the Cerulean Sea is one of the best books I've read this year (and that's a high standard). The relationships are incredibly sweet, both the romantic ones and the familial ones. It'll also draw you in and enthrall you, keeping you turning the pages to see what choice Linus will make in the end. Overall, it's absolutely amazing, and it left me with a wonderful happy feeling. Unlike the other books on this list, it isn't "about" LGBTQ+ characters or relationships, they're just a part of the story, so if that's more your jam, give it a shot!