The Ultimate Christmas Guide
2020 has been an extravagant year… when it comes to staying at home and being anti-social. Everyone has had many ups and downs, but there is a season that many of us have been looking forward to: the holiday season! Christmas (if you celebrate it) and New Year's, warm blankets, hot chocolate, and of course presents. This year the holidays might look pretty different for everyone, but here are some ways you can still feel the festive spirit in December!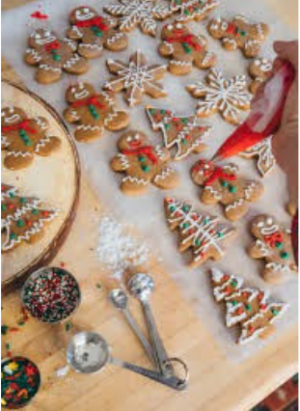 Of course, it's not a proper holiday season without the smell of delicious baked goods wafting through air. Many families have traditions during winter such as making Christmas cookies, because the atmosphere always adds a bit of festivity and excitement no matter what time of day. Not only is the tradition aspect fun, but turning it into an amazing event to do with your friends and family is always exciting too! Cooking is the perfect activity to participate in over FaceTime, and it's a great way to hang out with your friends even though you may not be able to see them in person this holiday season. Included in this article is a recipe for basic sugar cookies, and although on their own they may just taste like sweet crackers, adding in whatever unique ingredients you have on hand may help you engage your creativity and find the next perfect cookie recipe. Go forth and bake our minions!
What's a better way to feel the holiday vibes than being comfortable at home? We finally have an opportunity to feel cozied up in pajamas and onesies, with a mug brimming with hot chocolate in hand. Winter is the prime season for bundled up warmth and hot drinks, and sometimes you just need some time to feel the holiday and winter atmosphere. 
With COVID in the picture, an in-person Christmas party is risky and dangerous to have, no matter how much fun it is to catch up with your friends. Although many people may feel tempted to throw a socially distanced party anyway, a much safer option is to move it online just like the rest of your activities. You could play video games with your friends, go on a Zoom call, or relocate to your favorite chat room for fun holiday-themed festivities. Although this requires a lot more imagination and planning than a typical in-person party, the possibilities are virtually endless as you have the entire internet at your disposal. Using a bit of creativity and the resources that you have on hand, a fun and safe party is quite achievable. 
Secret Santas and gift exchanges have a long history in the celebration of Christmas and other winter holidays, and there's no reason not to still hold these fun traditions in the wake of the pandemic. Perhaps draw names and mail out presents or letters to people assigned to you, or send a virtual card over text or email. Either way, this is sure to help you spread a little bit of Christmas spirit anywhere you go.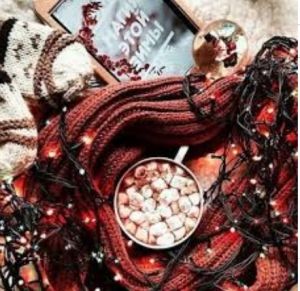 Preparing for the long-awaited Christmas or New Year's or getting absorbed into the winter atmosphere can be done in a really fun and creative way… by making your pet a costume and a toy! Ends have to be met for this one, such as having a pet or celebrating certain holidays, but just let your creativity shine through! Through a YouTube video or an article, make your pet into Santa, a snowman, or decorate them in Christmas colors. Or make them an elf they can chew and rip apart. Of course there's a chance your pet might hate the effort you put in or rip the costume and toy apart as soon as they see it, but the process and the priceless reactions are worth it. And if your pet actually adores the new items, well, that's an extra bonus, right?
So many of us have had very different interests and hobbies as children than now. Whether that is reading all day everyday or having a tradition of decorating the house during the holidays, everyone has something they stopped doing. Winter break is a good time to get back in the spirit of you as a small child, and leave cookies out for Santa. It's always fun to see how much you changed in a few short years, and trying activities you used to do can make you feel nostalgic, perfect for the holidays. So build that pillow fort this Christmas, write a letter to Santa, and rejoice in the memories you once cherished as a kid. 
Hand-made gifts that require time always hit differently no matter the person. Putting your time into a craft instead of buying a present at a store can really touch a person's heart. Not to mention, learning how to make a new craft can both be entertaining and challenging. Some ideas include embroidering, making friendship bracelets, baking, knitting or crocheting, etc. It's a productive way to spend your time and it makes those around you feel appreciated. So during this gift-giving season, consider making someone's day much better by showing your appreciation to them!
These are only some of the ideas that you can implement into your holiday and winter plans, since creativity allows a person to reach beyond what they already know. Despite the year, make this winter the most memorable yet!
If in need of a good recipe for sugar cookies, here's a good one from Allrecipes!
Ingredient Checklist
2 ¾ cups all-purpose flour

1 teaspoon baking soda

½ teaspoon baking powder

1 cup butter, softened 

1 ½ cups white sugar

1 egg

1 teaspoon vanilla extract
Directions
Step 1


Preheat the oven to 375 degrees F (190 degrees C). In a small bowl, stir together flour, baking soda, and baking powder. Set aside.

Step 2


In a

large bowl

, cream together the butter and sugar until smooth. Beat in egg and vanilla. Gradually blend in the dry ingredients. Roll rounded teaspoonfuls of dough into balls, and place onto ungreased

cookie sheets

.

Step 3


Bake 8 to 10 minutes in the preheated oven, or until golden. Let stand on a cookie sheet two minutes before removing to cool on

wire racks

.