Soul – Life and Death with a Jazzy Twist
At this point, it seems as if Pixar can do no wrong. Although it was delayed six months due to the Covid-19 pandemic, Soul was finally released as the first Disney+ Original movie on said streaming service. And it didn't disappoint. A surprisingly hopeful, existential film, it perfectly combines moments of levity with deep human emotion that seems to be exactly what we all needed to finish out 2020.
Our protagonist is Joe Gardner, a New York jazz pianist stuck teaching a middle school jazz band. As a former trombonist for my middle school jazz band, these scenes of out-of-tune and off-time players are regretfully accurate. While Joe is certainly less intense than the other famous on-screen jazz teacher, Whiplash's Terence Fletcher, he is no less passionate and no less talented. When one of his former students gets him a gig performing with one of his jazz idols, Dorthea Williams, his life seems to be skyrocketing upwards, that is, until it falls right back down into a manhole. This untimely death transports Joe's soul (which still wears his classic fedora) onto the conveyor belt of existentialism, slowly moving him towards the Great Beyond. Joe then jumps off this conveyor belt in an attempt to get back to his body and falls into one of the trippiest animated sequences I've ever seen: 2D animation mixes with 3D and colors flow into black and white as Joe falls. It's like something out of the end of 2001: A Space Odyssey. Joe eventually lands in the creatively named Great Before, where he is assigned to be a mentor to 22, a soul so obsessed with not living, mentors such as Abraham Lincoln and Socrates have failed to find her "spark" for life. The rest of the film follows Joe in the Great Before and on Earth as he tries to get back to his body while also convincing 22 that there is something in life that will make it worth living.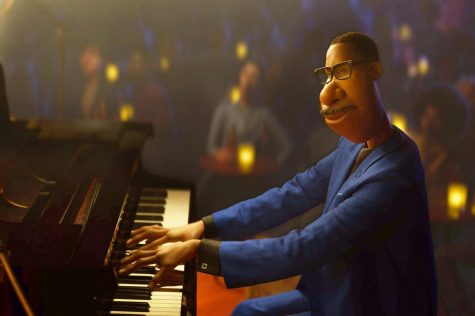 A lot of credit must go to the talented voice acting cast of Jamie Foxx as Joe and Tina Fey as 22, with an outstanding performance from British talk show host Graham Norton, who plays the sign-spinning, Bob Dylan-loving, ship captain hippie, Moonwind. Of course, the animation is also brilliant. This film stepped up the guitar playing from Coco by animating the notes the musicians play to match the music on a variety of jazz instruments, including piano, bass, and trombone. Certain ideas in the story also are reminiscent of Coco: the exploration of the afterlife, the deep musical influence, and even the highlighting of an underrepresented culture. Musicians Herbie Hancock, Quincy Jones, and Jon Batiste all were consultants on both the musical and cultural aspects of the film, and their experience and talent shine through in scenes like the barbershop and jazz concerts, as well as the visuals for when you get in the "zone." While the plot does turn into a generic body-swap comedy for a bit, it offers some opportunities for self-discovery that truly elevate it above some more kid-oriented animated films. The creative side characters are charismatic and meaningful too, including a barber, the metaphysical caretakers of the Great Before, and Terry. However, the most impressive thing about this film is its ability to take such a depressing subject and turn it into a love letter to life itself.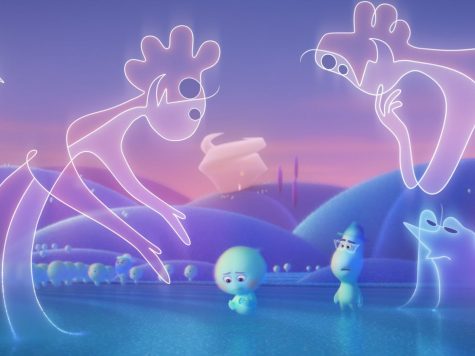 In 2020, when the world was burning, fighting, and dying, many of us seemed to forget just how beautiful life can be. Soul was my wake-up call to remember the little things that make life special, the clouds and blue sky on a sunny day, the golden leaves of trees in autumn, the twisting fall of a maple seed. This was a film that I needed to watch and a film that should be watched by anyone who has lost something in this dreadful year. In true Pixar fashion, crying became a happy occasion while watching. Director Pete Doctor has perfected the formula for making people feel some incredibly deep emotions, and I love him for it. I am ready and excited for the future because of Soul. If anyone wants to laugh, dance, cry, and feel good about life, this is the film for you.