Death on the Nile review
While Sherlock remains my favorite on-screen detective, Kenneth Branaugh's portrayal of Agatha Christie's Hercule Poirot in Murder on the Orient Express and now Death on the Nile has pushed the mustachioed Belgian to a close second. Branaugh, perhaps best known for his Shakespeare work and his personation of Gilderoy Lockhart in the Harry Potter films, deeply impressed me with his semi-autobiographical film Belfast from last year. Death on the Nile is definitely a step down for the actor-director, but the murder mystery was still interesting and enjoyable, even if it was lacking in some parts.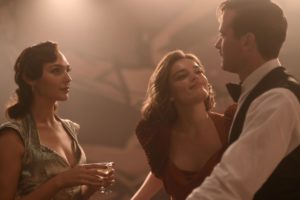 We begin in WW1 with Poirot's "origin," if you will, in a simple yet effective scene that establishes his wit, intelligence, and tragic love. From there, things go downhill quickly. After the titles, we flash forward to establishing more of the cast. Jacqueline de Bellefort and Simon Doyle, played by Emma Mackey and Armie Hammer, are engaged and deeply in love. But that seems to change when Jacqueline's friend, the wealthy Linnet Ridgeway (Gal Gadot), is introduced. This whole section drags immensely. We travel to the pyramids, a hotel, and eventually, the luxurious riverboat all before any murders take place. Finally, after an intriguing twist, someone is killed and the mystery begins.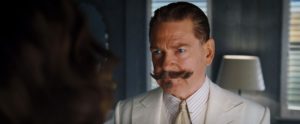 Branaugh is delightful to watch as he portrays the narcissistic yet charismatic Poirot interrogating and accusing everyone aboard of some evil deed. However, his talent as a director is seemingly lacking. There are odd moments where the camera will spin around a character for way too long, and the occasional poorly composed shot. The grandiose swoops over the Nile and the beautiful Egyptian landscape are fantastic, but it is in the mundane that the directing fails. Conversations that deliver tedious character exposition are shot in a dull or distracting manner, and there are some strange, jumpy editing choices throughout. The cinematography (lighting) in the first half is lacking, giving it a look that's too bright, flat, and makes some of the sets appear cheap.
I have a feeling that people will be exceedingly harsh on this film. It's not great, but it's not a bad film either. The mystery is extremely interesting, intelligently crafted, and keeps evolving throughout. There are multiple contradictory murders that had me guessing until the very end. The final twist was a little disappointing and brought some laughs from the audience, but the reveal that preceded it was excellent. I think I prefer the claustrophobia of the train stuck on a mountain pass in Murder on the Orient Express to the extravagance of the Nile, but this continuation of Poirot's adventures had made me hopeful for more of the detective's mysteries in the future.
Death on the Nile (2022) – dir. Kenneth Branaugh
6.5/10. A delightfully complex story that slowly evolves through several intelligent twists that, while often technically deficient, is held together by an extremely charismatic performance from Branaugh.