Interview with Mr. Kidd: Why SpongeBob?
When Shorecrest Drama announced that their spring musical would be The SpongeBob Musical, many students may have reacted with surprise. SpongeBob does conjure up images of children, cartoons, and a generally juvenile feeling, but that first impression isn't quite accurate. "It's not what you think it is," says Mr. Kidd, the drama teacher and director of the musical. "I think people think it's something, and it's not. It's not a Nickelodeon theme park ride."
The decision of what musical to produce was not one he took lightly, and it was a very internal process, he says. "One of the things I always like to say is I have to live with the show for a really long time, and usually longer than anyone else who's working on it. And so it has to be something that I want to listen to for six months of my life, and so it always has to be something that really hits me."
He lists several reasons why he chose SpongeBob. For one, "the woman who created it, ​​Tina Landau, is one of my heroes in the theater world. She's one of the most brilliant theater makers around." So he's been thinking about the musical since its release in 2016, even though he too judged it on first sight. But it surprised him. "I was listening to this a lot when I was frustrated at the way the world was handling everything from politics to the pandemic. It asks a lot of really interesting questions about otherizing people. It asks a lot of really great questions about science and believing, like the scientific process; that there are people who know and who've spent their lives and careers being people who can say 'this is a thing,' and those are the people we should listen to. And this sort of says all that. And it's so weird that this musical came out pre-pandemic, but through the pandemic it just kind of just kept hitting, you know? Just as you watched people's responses to everything from vaccines to masks to whatnot, you just kind of go okay, okay, okay."
I'll admit I was a little surprised by this, but then I went and read the synopsis of the musical on Wikipedia. Here's a telling sentence: "Despite Sandy's pleas that science could help them solve the problem, the townsfolk ignore her for being a land mammal." …hm. Yeah. Maybe even a little too on-the-nose.
Mr. Kidd also says that the music is very good—"it's bop after bop"—and that it's an excellent ensemble show. "It's taken us longer to teach the music, because we've had to teach it to so many people, because the ensemble is in so much of the show. And I don't even think I had that impression myself when I was picking it. I sort of knew there were the ensemble songs, but they're really in the background of the show all the time, sort of supporting and lifting. They're the stars of the show, which I love."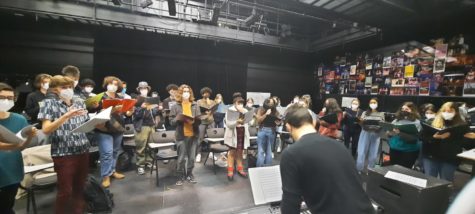 Rehearsals are ongoing for the show, featuring that huge ensemble, and they're going well. Friends tell me they're having a lot of fun, including one notable incident where the power went out and the whole cast ran around in the dark backstage spooking each other until they relocated to a room with more natural light.
If students reading this are interested in getting involved with the show, it's not too late. There was a crew info meeting on March 17, so you may be a little too late to join the crew (though you can always try asking!), but there are other options for interested students. Mr. Kidd says that "we're always looking for ushers, and so there will be another phase where we're looking for people to help us usher and do the front-of-house things that have to happen to welcome our community into the school." A timeline for that and further details aren't yet available; keep an ear out!
It's not clear yet what the COVID protocols are going to be for the show. Mr. Kidd says he hopes the cast will be able to rehearse and perform maskless, especially with the recent lifting of the mask mandate. They did auditions maskless, after going through a testing protocol similar to that of the sports teams, in the hopes that their eventual product would be maskless. It's looking, tentatively, like that will be able to happen, given the lifting of the mask mandate in most places, including theaters.
The other protocols, however, are still unclear. When I interviewed him on March 4, Mr. Kidd said he still had a limited capacity for the theater, but he hoped that would be lifted. "They do pack the gym for basketball games," he pointed out, "so I don't see much of a difference between if we let x number of people go see a basketball game," and how many people could come see the show. "My hope is that we'll be able to share this play with as many people as possible." It's quite possible that as time goes on, COVID limitations will cease to even be a concern: restrictions are being lifted across the board, and recent band concerts performed to a full house, mask optional.
No matter how the show ends up happening, it's wonderful to be back, Mr. Kidd says. "It's been two years since I made a play. And so, I think, I'm just excited to make a play. It's really been a balm. It's awakened so many creative things inside the people who are working on it, including myself. It was a dark time when you couldn't make plays, for us. Other people could do sports, other people could do all these things, but we were really stuck not being able to do anything the way we wanted to do them. And to be in the room and listening to these kids sing, it just feels special. It feels sacred."
The SpongeBob Musical will run the weekend of May 12 (Thursday, Friday, Saturday, Sunday), and the following weekend, May 19 (Thursday, Friday, Saturday, Sunday).