The Misunderstanding of Marilyn Monroe
Born Norma Jean Mortenson and baptized as Norma Jean Baker, Marilyn Monroe was one of the most successful actresses of the twentieth century, with her films grossing more than $200 million in total. She was one of the biggest sex symbols of her generation and was often sexualized, objectified, copied, abused and manipulated. Under the ever so narrow view of society, Monroe was criticized and shamed for the ways she acted and presented herself. Despite all of the negativity around her, she became the universal symbol of femininity and was at the top of the Hollywood A List.
Troubled Beginnings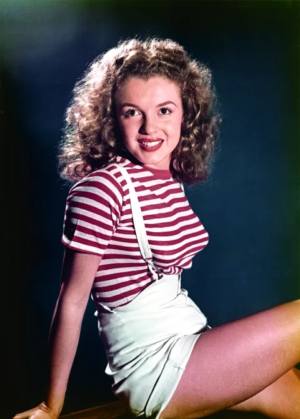 Marilyn Monroe was born in Los Angeles on June 1, 1926. She had an absent father, and her mother was diagnosed with schizophrenia and was in and out of psychiatric facilities. She had a half-sister, but they were never close. One of her first memories was her mother trying to smother her with a pillow while she lay in a crib. Monroe had an unstable childhood home. She lived with friends of her mother, Grace and Doc Goddard, for a time in the 1930s, but when Doc's work sent the couple west, they gave Monroe back to foster care.
While in foster care, she was sexually assaulted multiple times and raped at the age of 11. She dropped out of high school at 15 and used her sex and body to escape poverty. Monroe married James Dougherty at 16 in 1942. He saved her from the foster care system. Throughout the marriage she felt lonely and insecure despite her deep attraction to Dougherty. Monroe had anxiety throughout the marriage stemming from her fears of vulnerability and unworthiness to her husband, believing that he preferred his former girlfriend, Doris Ingram, a Santa Barbara beauty queen.
The Start to the End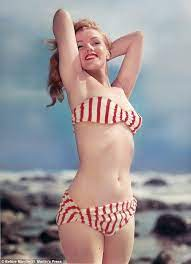 When her beloved husband James Dougherty, a member of the Merchant Marines, was sent to the South Pacific during World War II, this opened doors for Marilyn she had dreamed about since a child. A photographer discovered her while she was working in a California munitions factory and launched her successful career in modeling. That same year she signed a film contract with 20th Century Fox. Monroe dyed her naturally brunette hair blonde and changed her name from Norma Jean Baker to Marilyn Monroe, Monroe being her grandmother's last name. Monroe and Dougherty divorced September 13, 1946.
Although Marilyn struggled with acting in the beginning of her career, she felt that on the stage she wouldn't be punished for her sexuality and sensitive feelings. When she was younger, she'd experienced brutal abuse from her great aunt Ida Martin after detailing the terrible sexual abuse she endured. Acting became her outlet.
After a slew of bad roles, she gained popularity in John Huston's thriller The Asphalt Jungle (1950) and the same year filmed All About Eve (1950) with Bette Davis.  Her first true breakout film was Niagara (1953) with the other two prominent films the same year How To Marry a Millionaire and Gentlemen Prefer Blondes. These films began the emergence of her identity to the public as a sex symbol.
Not Just a Sex Symbol
Immediately Marilyn Monroe was uncomfortable with her sex symbol image, as was her then-husband Joe DiMaggio, whom she married in 1954 at the San Francisco City Hall. Although he softened her image, he was uncomfortable with her massive popularity surrounding her sexuality and divorced her nine months later in October. She was trapped in dumb blonde sexy roles and disliked the sexual exploitation she faced day to day. In the year 1955, she began taking acting classes with esteemed Lee Strasberg, encouraged by theater director Elia Kazan.
Lee Strasberg was credited for educating James Dean, Marlon Brando, Paul Newmann and other path-blazing actors. Strasberg was an incredible teacher and analyzer of actors' performance in movies. Monroe was accepted as a private student, and immediately her confidence in acting increased and she gained the tools to help her succeed in her field. Still, she felt trapped in the role of the dumb blonde, but she began negotiating other characters with directors and developed skills as a comedian.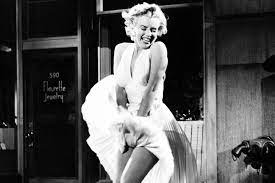 Monroe filmed The Seven Year Itch (1955) and Bus Stop (1956) after her lessons at the New York acting school, as well as filming The Prince and The Showgirl (1957), but her erratic behavior created a tense relationship with those around her. Monroe's movie Some Like it Hot (1958) was a box office hit and her most successful and best performance comedy.
When not filming movies, she studied literature and history at UCLA. She loved literature and owned more than 400 books in her private library.
When Her Private Life Filtered Into Public
Marilyn Monroe struck love again with Arthur Miller, whom she met through Charles Feldman, the producer of Seven Year Itch (1955), which she starred in. At the time, he was married to another woman, but that did not stop their love for each other as they wed June 29, 1956 following the divorce of his previous marriage. Monroe believed she could trust him and loved him.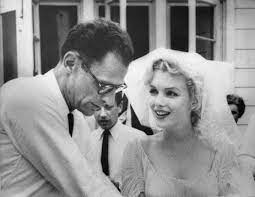 Their relationship became disagreeable after she filmed The Prince and the Showgirl (1957), when she found a castaway letter from Arthur Miller to a friend of his describing that he was embarrassed and disappointed by her. Marilyn felt betrayed, and they gradually stopped loving each other. Soon again, she felt lonely, disappointed, and insecure. They moved back to Los Angeles in 1958 for Monroe to film Some Like It Hot. 
In the year 1960, Marilyn Monroe began filming Let's Make Love and had an affair with French co-star Yves Montand. She felt shut out of her husband's affections while he was crafting the script for The Misfits. They began filming for his motion picture based on his and Monroe's relationship where he met Inge Morath. She was a photographic archivist and they fell in love and the Marilyn Monroe and Arthur Miller relationship came to an end with a divorce in 1960.
Another affair that made national news was one with Marilyn Monroe and then-president John F. Kennedy, whom she met in the Santa Monica home of his brother-in-law and actor Peter Lawford. Although there is no known length of relationship, this was indeed scandalous at the time. A year later in April 1962, she began filming Something's Got To Give with director George Cukor, but her chronic lateness and absences from set led her to be fired from the movie, and the film was never finished.
Crippling Under The Public Eye
The public view of Marilyn Monroe was rarely positive. With her massive popularity, she influenced the look of sensibility of an entire generation of women. Men and their idealisms for Monroe's identity objectified, depersonalized, and trapped her in the stereotype of an innocent sexy woman with no personality and only sexuality. Women began hating her and viewed her as competition for the male eye and validation. Monroe never had any female role models as a child and thus felt more comfortable around men because she believed they treated her like the woman she was, but she should've been treated so much better.
Monroe had mental health problems, but was betrayed numerous times by health professionals. She saw three psychiatrists throughout her adulthood: Dr. Margaret Hohenberg, Dr. Marianne Kris and Dr. Ralph Greenson. She was recommended by her acting teacher Lee Strasberg and began seeing Dr. Margaret Hohenberg up to 5 times a week, but switched psychiatrists in 1957 to Dr. Marianne Kris. Monroe was then referred to seeing Dr. Ralph Greenson, a psychiatrist who also treated Judy Garland, Frank Sinatra and Oscar Levant. Unlike his other patients, he used the adoption therapy method with Monroe, one where they spent over 5 hours together every session, which is extremely dangerous and discredited today.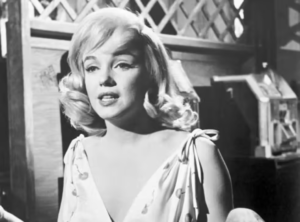 3 months after filming the 1960 movie The Misfits, Monroe was committed to the Payne Whitney psychiatric ward. Although this was intended as a cure for her mental health problems, they manifested the worst 3 days of her life. Her former psychiatrist, Dr. Marianne Kris signed Monroe in under the name Faye Miller, where Monroe signed the papers and was taken and locked in a padded psychiatric ward. Immediately, she sobbed and pounded on the doors to be let out, but the staff believed she was indeed psychotic.
On March 1 and 2, Marilyn Monroe wrote a detailed letter to her psychiatrist Dr. Greenson describing the heinous experience of inhumanity, apathy, and the terrible effect of the psychiatric ward and her plan to escape. She wrote that she was "in a prison for a crime I hadn't committed" and how she felt imprisoned. In the letter Monroe wrote the idea for her escape to be from the movie Don't Bother To Knock. In her stunt to leave, Monroe picked up a chair and threw it at glass in an attempt to break it and took a piece of the sharp glass in her hands. She told the guards, "If you're going to treat me like a nut, I'll act like a nut" and threatened to cut herself, which was far from her mind.
Monroe refused to cooperate with the psychiatric staff and was forced to take a bath where the head administrator came in to tell her she was very ill. Her second husband, Joe DiMaggio, saved her from the center and objected to their practices. The two had a brief reconciliation but she was distracted by the fact that not only did Dr. Kris did not show up after her confinement to greet her, neither did her acting teacher Lee Strasberg nor his wife.
A Sudden End to a Prominent Figure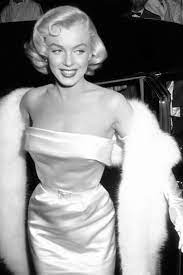 Marilyn Monroe was found in her first home she bought in Brentwood, California, August 5th, 1967 by an overdose at 36 years old. Her estate took 10 years to be settled and was given to acting teacher Lee Strasberg. Following his death in February 1982, his wife, Anna Mizhari Strasberg, auctioned off Monroe's personal archive for over $13.4 million. That large sum of money funded the Lee Strasberg Theater and Film Institute. Anna Mizhari Strasberg arranged to publish "Fragments: Poems, Intimate Notes, Letters" by Farrar, Straus, Giroux, several years after she inherited her archive after her husband's death.
There were three theories the public seems to have on the death of America's Beauty, Marilyn Monroe. The first was that she died by suicide. Monroe was emotionally tired and frail and had an unsuccessful suicide attempt in her past. The second was that she had accidentally overdosed. Some believe that the reason for her death was because she mixed drugs with alcohol on accident without plans for suicide because she had plans in the future. The third and ever so popular theory is a conspiracy. Many believe there was another party involved in Marilyn Monroe's death and that it wasn't entirely her fault. There are countless theories like these about her death, with one of them being Peter Lawford. This man was John F Kennedy's brother-in-law, and Monroe wrote in one of her past diaries that she was afraid that he might harm her or poison her, that he behaved strangely around her and that why he acted like this was because Monroe knew that he was homosexual and wanted to be like her, a woman.
There are no known truths to the reason or cause of Marilyn Monroe's death, only countless theories that never seem to end. Although this is a mystery that is still being determined, all we can do is let this influential actress rest in the peace she always deserved.
Sources
Kashner, Sam. "Marilyn and Her Monsters." Vanity Fair, 5 October 2010, https://www.vanityfair.com/culture/2010/11/marilyn-monroe-201011. Accessed 10 April 2022.
Whitwell, Mark. "Mark Whitwell on the Sexualization and Exploitation on Marilyn Monroe | Heart of Yoga." Mark Whitwell, 5 December 2017, https://www.heartofyoga.com/blog/candleinthewind. Accessed 10 April 2022.
Biography.com Editors. "Marilyn Monroe – Quotes, Movies & Death – Biography." Biography (Bio.), 8 December 2017, https://www.biography.com/actor/marilyn-monroe. Accessed 30 March 2022.
Ceccoli, Velleda C. "Marilyn Monroe as an icon of femininity." Velleda C. Ceccoli Ph.D., 27 October 2014, https://www.drceccoli.com/2014/10/about-a-woman-marilyn-monroe/. Accessed 3 April 2022.
Closer Staff. "See Rare Photos of Marilyn Monroe's Early Years Before She Was Famous." Closer Weekly, 11 March 2018, https://www.closerweekly.com/posts/marilyn-monroe-young-155751/. Accessed 2 May 2022.
Elle.com. "43 Rare Photos from Marilyn Monroe's Turbulent Marriages." Elle, 16 September 2020, https://www.elle.com/life-love/news/g29955/marilyn-monroe-husbands-photos/. Accessed 3 May 2022.
History.com Editors. "Marilyn Monroe born – HISTORY." History.com, 13 November 2009, https://www.history.com/this-day-in-history/marilyn-monroe-born. Accessed 28 March 2022.
James, Emily. "Marilyn Monroe's modelling career revealed in book by Astrid Franse and Michelle Morgan." Daily Mail, 23 November 2015, https://www.dailymail.co.uk/femail/article-3330537/Beautiful-images-reveal-bored-housewife-Norma-Jeane-model-moment-reinventing-Hollywood-icon-Marilyn-Monroe.html. Accessed 2 May 2022.
Kashner, Sam. "Marilyn and Her Monsters." Vanity Fair, 5 October 2010, https://www.vanityfair.com/culture/2010/11/marilyn-monroe-201011. Accessed 10 April 2022.
Macnab, Geoffrey. "The Misfits, film review: Marilyn Monroe gives an extraordinary performance." The Independent, 12 June 2015, https://www.independent.co.uk/arts-entertainment/films/reviews/the-misfits-film-review-marilyn-monroe-gives-an-extraordinary-performance-10314475.html. Accessed 3 May 2022.
Maitland, Hayley. "What's All Of The Controversy About 'Blonde', Netflix's Marilyn Monroe Biopic?" British Vogue, 28 October 2021, https://www.vogue.co.uk/arts-and-lifestyle/article/marilyn-monroe-biopic-blonde. Accessed 5 May 2022.
Miller, Julie. "Marilyn Monroe Was "Never a Victim": Seven Ways She Masterminded Her Career." Vanity Fair, 17 January 2022, https://www.vanityfair.com/hollywood/2022/01/marilyn-monroe-hollywood-mastermind. Accessed 2 May 2022.
Nathan, Micah. "The 60-Year Itch: Re-watching The Seven Year Itch on Its 60th Anniversary." Vanity Fair, 3 June 2015, https://www.vanityfair.com/hollywood/2015/06/marilyn-monroe-seven-year-itch-60th-anniversary. Accessed 2 May 2022.
Stephens, Britt. "The Prince and the Showgirl Marilyn Monroe | 15 Ways to Pay Homage to Marilyn Monroe This Halloween." POPSUGAR, https://www.popsugar.com/celebrity/photo-gallery/42386419/image/42386769/Prince-Showgirl-Marilyn-Monroe. Accessed 3 May 2022.
Whitwell, Mark. "Mark Whitwell on the Sexualization and Exploitation on Marilyn Monroe | Heart of Yoga." Mark Whitwell, 5 December 2017, https://www.heartofyoga.com/blog/candleinthewind. Accessed 10 April 2022.