How Not to Ace Your First Homecoming
Ah, homecoming: a week full of competition, decorations, fun, and most importantly, the football game and the dance. Or at least, that's what everyone has told me. Since middle school, people have been telling me what an exciting time homecoming is and how it's one of the most fun high school events of the year. 
I was excited to start my freshman year at Shorecrest. Of course, that was before the pandemic hit. Suddenly I was thrown into online school for my freshman year, and nothing thrilled me. I was stuck at home, unable to make connections with friends and teachers. Months went by during my sophomore year before we were actually able to attend school in person. Unfortunately, our homecoming was just filled with games like Kahoot, a spirit week, and decorating the stairwell, with the homecoming assembly being at the football game. Sounds exciting, right? Wrong! It made me so confused watching it all happen, misleading me to think that this was all homecoming was.
Now I'm a junior and suddenly bombarded with new information about homecoming. We get an assembly and a dance, and we get to be even more competitive than before. I was excited, and honestly who wasn't? It was our first chance at a "normal homecoming" and I was thrilled! On the day that we were going to vote on our theme, I was a tad bit confused about what was shown. As I looked around, the people around me were also confused. The theme choices that they gave us were Coming of Age Movies, Harry Potter, Four Seasons, and Mythology. I raised an eyebrow when I saw that. I grew up learning and reading about different mythologies, especially Greek and Roman. I was concerned because I knew ASB were most likely only thinking about Greek and Roman mythology, and other types of myths like Egyptian mythology would not end the best way, especially because Egypt is always portrayed as only having deserts and mummies and other harmful stereotypes. It made me feel uneasy seeing Harry Potter as a theme as well, due to the author's very vivid history of being antisemitic, transphobic, and overall not a good person. 
I voted for the Four Seasons, as one of the safest options and my most preferred choice compared to the others. When I asked other people what they thought of the choices, their opinions all varied. Some enjoyed the choices given, thinking that their ideal homecoming imagery fit that description. Others thought some of the more basic choices were unoriginal and boring. I went home not thinking much about the themes, until I got a text from my friend yelling about how mythology won. I was already worried about the impact mythology might have on our student body, but now that it was a reality my uneasiness grew.
On the day that we were actually voting for the sub-themes, the weird feeling in the pit of my stomach confirmed my worst fears. When I saw our choices it was between Celtic, Norse, and Egyptian. I asked a sophomore in my Highlander Home what her choices were, and hers had about the same choices as mine, except they were able to get Greek-Roman as one of their choices.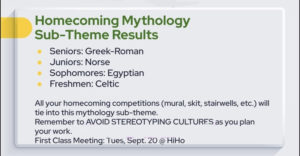 I once again didn't think much of it until the next day when they confirmed what our sub-themes were and I was furious at what my third-period teacher read to us. On the slideshow, it said, "Remember to AVOID STEREOTYPING CULTURES as you plan your work." Now, there are a lot of things that I could say about this. But the main problem that I personally found was that if you have to SAY to avoid stereotyping cultures, then you know what you are already doing is wrong but you continue to do it anyway. And that's just rude to the many students of color that go to this school. It's harmful to convey this message to your students after you've said in the past that you care about the students' voices and feelings about topics such as race and diversity in your school; it sends a harmful and misleading message to your students. 
After a few students complained to the administration and to the principal about the new themes, Ms. Phillips held a meeting with ASB core and the principal, and then soon after that the principal made the announcement that the theme was changed to the four seasons. I'm glad that they changed it, but it doesn't excuse the fact that this still happened in the first place and we almost let it slide. What's worse is that if this happens again, who knows what we'll let slide then? How did they not see the effects that having a theme like this would have on both their idea of a safe and welcoming school, along with keeping the sentiment of students in mind?
When chatting with the Activity Coordinator and Leadership Teacher Ms. Phillips, the head of ASB and all of Shorecrest's events for the student body, I asked her, "When mythology was chosen as a theme, did you think that it might be a problem?" 
Ms. Phillips answered, "I did think 'mythology' was possibly problematic, but I also know that Shorecrest students are amazing and could take it seriously and do it well. However, after hearing from a number of people in our school community, it became apparent that even though it might have been possible to do 'mythology' well, it was also very possible to have scenarios or examples of cultural appropriation or stereotyping."
Now I know especially after the principal made the announcement, there was some controversy in why the change was necessary. A few of my friends told me about how they even overheard some people sort of mock this, claiming it was just another thing to make the school seem more "woke" in how they react to issues like this. However, I'd like to bring the issue to light about how in a school that is almost 50% white, having a sort of theme using cultures makes a lot of students of color feel uncomfortable and weird. When asking around for my classmates' opinions on the theme, a student of color in the junior class I talked to said, "I think that mythology was a good idea, but not the way they did it. They should have done mythological creatures or something like that instead of making the sub-themes into mythologies from different cultures. It felt weird and mildly uncomfortable to see that plastered all around the school." 
Later that week when the spirit days were announced, another uproar occurred. Lots of students were excited to see what the days were going to be, but a lot of people were let down by the news and almost bored because they felt that the themes were not interesting. Freshman Cora Acevedo commented, "I feel the spirit days could have been better. I liked the four seasons theme because there was a lot each grade could do."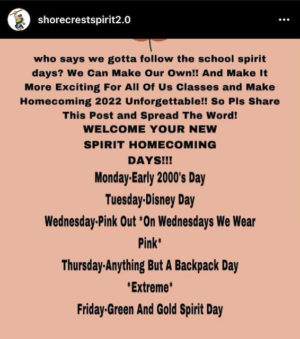 However, there were some students who didn't like the spirit days at all and listened to the negative feedback that was sparked all across the grades. The anonymous students, one from each grade, took it upon themselves to create new spirit days, which they posted on their Instagram account called, "shorecrestspirit2.0". 
Dylan Bautista, one of the freshman senators stated, "The days we chose are traditional, and we have done them before, and we wanted it to be easy so everyone is able to participate." 
A student in the junior class said as well, "I liked the student-made spirit days better because they better represented what the student body actually wanted and weren't all recycled ideas from past spirit weeks."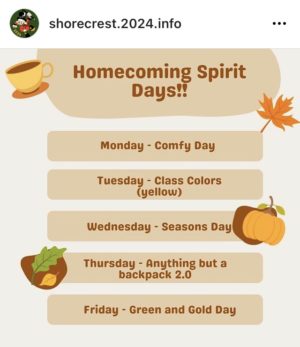 When talking to Ms. Phillips about her thoughts on the new spirit days that the students created she said, "The spirit days that were picked were not hard or crazy, but we were hoping they were still fun and accessible to all students to participate, especially our new freshmen. Hearing about alternate spirit days was sad. We tried to reach out to whoever created them in order to talk through it and work out a compromise or path forward, but we didn't hear back from them and it was formed anonymously." 
It has been well over a few weeks since homecoming has happened, and while many have moved on from that fun-filled week and shifted focus to other plans, for me this is something that still makes me wonder in confusion. Hopefully next year we'll see some improvements of theme and spirit days ideas that are respectful, fun, and keep our future ASB goal in mind to create a positive and safe environment for all students willing to participate in homecoming festivities!