Are We Still Scots?
Recently, you may have heard of the controversy surrounding our school's mascot, Otis, the Fighting Scot. Due to the topic's newfound prevalence in our everyday conversations, we wanted to dispel rumors and reveal the truth about our mascot's history.
Since Shorecrest's inauguration in 1961, we've been known as the Home of the Highlanders, due to our location upon the crest of a hill, which is why it was also named Shorecrest. Our official school colors were also chosen before the title "Scots" was officially our mascot, in fact, it was the other way around.
The first student body of our high school was as democratic as you could get, seeing as it was the 60s, of course. Nonetheless, the results of their vote on school colors resulted in our 3 main colors, not simply just green and gold, but also navy blue. The student-led research revealed a revelation that these were the exact colors of Clan Gordon's Scottish Tartan, and this finding, alongside the hilly location of the school, led to the nickname 'the Highlanders'. In 1967, we were officially given permission from Chief Huntley of Clan Gordon to use their colors and symbols and represent them, leading to the overall Scottish theme of the school. However, while the usage of the tartan, the colors, and Highlanders dates back to our roots, the usage of both 'Scots' and Otis does not.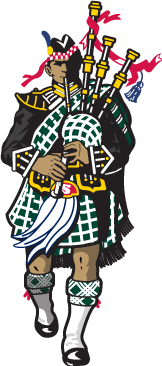 Our official mascot is somewhat harder to pin down. Our official symbol and occasional mascot is, in fact, the 'Piper', no, not the newspaper. The Piper refers to a Bagpiper, a long-held tradition of Shorecrest. You're easily able to view the 'official' illustration of this Piper from the commons, seeing as it's largely imprinted upon the side of the second-floor balcony, next to an illustration of a Highland Dancer, formerly called 'Lassies'.
You may be wondering, if the Piper is our mascot, then where did Otis come from? The answer to that is surprisingly… simple? Uncharacteristic?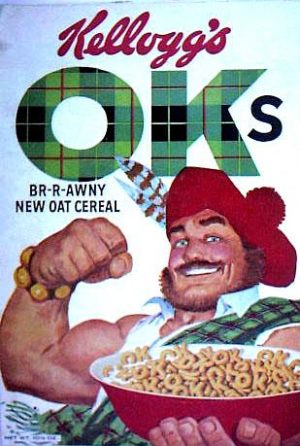 Nonetheless, it was inspired by and essentially was taken from a box of oatmeal cereal, more specifically, Kellogg's OK's, which featured 'Big Otis' as their mascot, who wore a kilt with the signature Clan Gordon colors as well. However, due to the previous confirmation by the Gordon Clan for Shorecrest to represent their Scottish culture, this adoption of Otis as the mascot was not an inappropriate use.
In 2020, Washington state approved House Bill 1356, which prohibits "the inappropriate use of Native American names, symbols, or images as public school mascots, logos, or team names" in public schools. The bill makes exemptions for schools located on Native lands and schools that have "authorized the use of the name, symbol, or image as a mascot, logo, or team name through an appropriate enactment or resolution." Shorecrest is not legally required to change our mascot or theme because a) the Scots are not Native American and b) we have permission from Clan Gordon to use their tartan, coat of arms, and other Scottish symbols such as the bagpipers. Additionally, Clan Gordon hasn't requested that we change any part of our school's representation of their culture.
The question of changing the mascot was first proposed during a Student Council meeting on November 17, 2022. According to the official minutes, the petition was "to change the school's mascot because it is not 'relatable' to the student body" and claimed that "having a 'white dude in a kilt' as our mascot goes against claims of inclusion." A committee was formed to consider the pros and cons of changing our mascot, figure out what the process would include, potential costs, and impact on the student body. In December, the committee sent out a poll asking for student opinions about the potential mascot change. 158 students and staff participated and 67% voted to keep the current mascot, with 22% voting to change the mascot.
General consensus among students and staff who explained their reasoning in the poll and who we have personally spoken with seems very similar. Most want to keep the Scottish/Clan Gordon theme, while students are split on opinions about Otis, everything from, "He just looks like a white blob trying to be a human and failing" to "Otis represents our school values and he's a really unique and fun part of Shorecrest". Most have agreed that if we were to change the mascot, we should change it to an animal that represents Scotland in some way,  though it's here that opinions split again. A stag, like on the Clan Gordon coat of arms? The national animal of Scotland, the Unicorn? An owl? A hedgehog? A Highland Cow? The Loch Ness monster?
Someone in our school community found information online about a man with the surname Gordon who founded the KKK during the Reconstruction Era after the Civil War. Some students grew concerned and asked if Clan Gordon has any ties with the KKK, and if the original 1960s students intentionally chose a mascot with connections to the KKK. We did some online sleuthing and discovered that George Gordon, a Confederate General and member of the United States House of Representatives, was a "Grand Dragon", or Klu Klux Klan member in charge of the state of Tennessee. While googling various phrases with "George Gordon" in them, there were at least 5 Gordon men who appeared. Some had connections to the UK, but most didn't. There was no indication that George Gordon was Scottish or connected to Clan Gordon.
Our research, as well as that of our librarian Mr. Berkbigler and the students he worked with, shows no connection nor correlation between George Gordon of the KKK and Clan Gordon. It seems that the students chose the colors, and then found out that they matched with Clan Gordon's tartan and asked for permission to use various Clan Gordon/Scottish traditions. Still, some students are concerned about the possible racist roots of our district. To quote the February 17, 2023 Student Council Slides, "Shoreline and the Shoreline School District used to be about 96-98% white back in the 70s and 80s. Back in the day, Shoreline put a lot of effort into staying a "white" district and to stay away from people of color.  We have discovered that Shoreline has pretty much been based on white supremacy and in the past, most residents in Shoreline were caucasian." However, Shoreline isn't unique in that regard. Nearly every city and any area in the United States at the time started with similar demographics to Shoreline's, just due to history. This doesn't prove that students chose a Scottish theme to "perpetrate white supremacy".
Today, Shorecrest is 48.5% white. Most students and staff we talked to, most of whom were not white, as well as those who filled out the survey, appreciate the Scottish theme even if they don't appreciate Otis himself. Otis isn't even our "official" mascot at times. While we support Shorecrest's goal to be inclusive and diverse, we wonder why Otis is a pressing issue when there are far more pressing issues, such as gender-neutral bathrooms or the racism that students of color have felt on campus. Throughout any conversation about the proposed mascot change, the budget always comes up. Many students have asked why we would spend thousands of dollars on a 'dude in a kilt' when our district is in serious financial trouble. The school has estimated that the mascot/Scottish theme change could cost upwards of $500,000, which ASB would have to raise the money for. Is this really our top priority?
For now, the Shorecrest Student Council and Administration are contacting Clan Gordon to clarify any suspicions they have and re-confirm that our school is allowed to represent Scottish culture here in our currently very inclusive and diverse Shoreline and Shorecrest community. Mr. Berkbigler, our school librarian, is also considering setting up a display or possibly an assembly so that students can learn more about Shoreline and the history of our school.
We hope that this article has answered your lingering questions about the confusing nature of this mascot change, and would appreciate any feedback or credibly sourced information to add or report on in a possible future article if this situation continues to grow.