Cross Country Rocks Region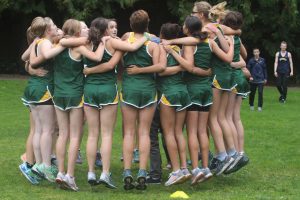 The Shorecrest cross-country team pulled off an amazing season this year. After the switch from the 2A to 3A league, competition was tough but the captains, seniors Lily Norton, Abigail Knowles, Seth Walton, Evan Deiparine, and Mac Franks were able to lead the team to success; to be a good captain, "you have to take running seriously, but have fun with it," Mac Franks says. In a cross-country meet, the top five runners to finish from each team receive a score equivalent to their overall place, therefore, a lower score is desired; if there is a tie, the sixth and seventh runners on each team will act as tie-breakers. Practices consist of a lot of running (in all weather conditions), but also strengthening and learning the strategies of racing. Workouts are challenging but the team camaraderie makes them enjoyable. Lily Norton says that, "Even though the workout is still [difficult], you're happy because you're with a bunch of people that you love."
The team travels to compete in invitationals; Leavenworth and Seaside. Not only is the running fun, the trips are too. At Leavenworth, Shorecrest varsity boys placed 7th and girls placed 3rd. The Seaside Three Course Challenge is always a favorite, the team travels to Oregon to race on three different courses; easy, moderate, and difficult. "Every year the whole team goes and we run a really hard race but we spend the whole night and day together and it brings us closer, especially at the start of the season," explains Franks. As a team, Shorecrest placed second in 3A and had several runners receive individual awards.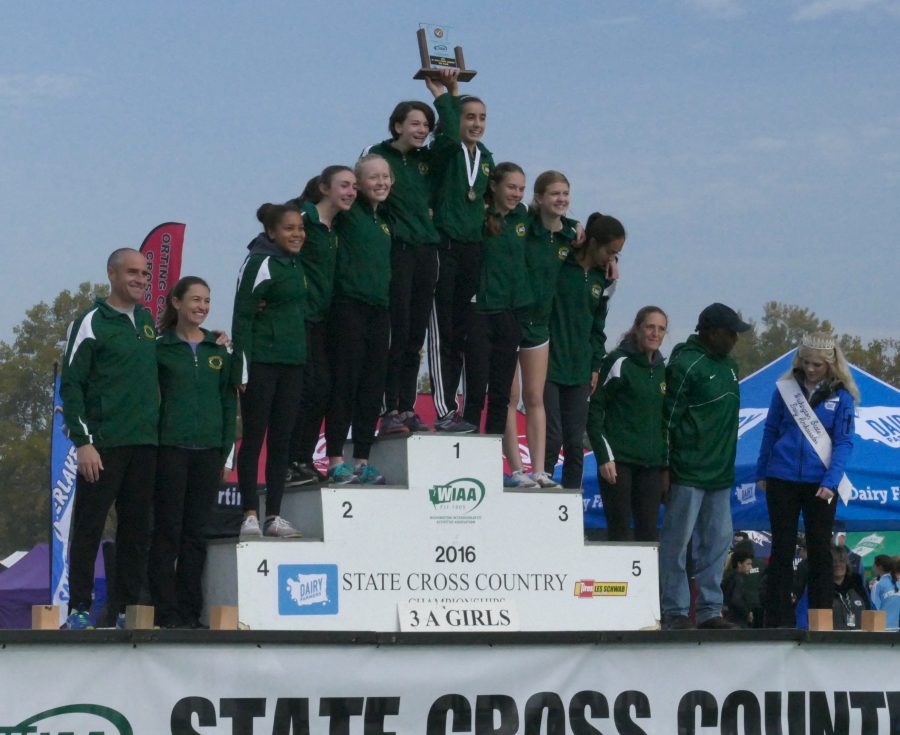 The last meet for most runners, WESCO Championships, held achievements and several personal records were made. Varsity boys placed 13th in the league, JV boys took 10th, and the girls team placed 2nd in 3A. As the regular season came to an end with major triumphs, many runners on the Shorecrest team were looking towards Districts and even State. At 3A District Championships, both girls and boys varsity teams ran the course at South Whidbey High School. Running for the boys was; Erik Luu, Mac Franks, Kent Scollard, Seth Walton, Anders Wennstig, Evan Deiparine and Spencer Thurman. The girls ran; Lilly Visser, Lauren Block, Sophia Gamble, Livia Glascock, Delaney McCormack, Soumya Keefe, and Natalie Hakim. Shorecrest girls placed 2nd and secured a spot in state as a team, something that had not happened in over 20 years. The boys had three individual qualifiers; Erik Luu, Mac Franks, and Kent Scollard.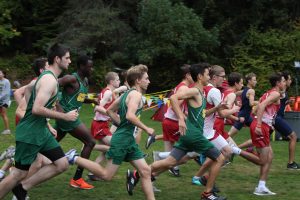 The state meet was run at Sun Willows Golf Course in PASCO, Washington. After running through the course Friday, the team was ready to take on racing Saturday morning. At 12:30, the Shorecrest girls team took off with alternate Kayla Palmore filling in for Soumya Keefe, and finished with many personal records. Lilly Visser medaled in 14th place, and the whole team took to the podium for their 3A 3rd place title. Erik Luu, Mac Franks, and Kent Scollard raced at 2:00, securing great races to end the season. The girls team was excited with their unexpected placing. "Most of us thought we'd be on the lower end [of placing] considering most of our team hadn't competed in state before," says sophomore Lauren Block.
Despite the odds, the young team ran very well. "It was a total surprise," sophomore Lilly Visser says, "but we all ran our best." Dedication and hard work was what moved this varsity team of only three returning runners to a place on the podium. "We trained really hard all season and it paid off," sophomore Livia Glascock explains. The team looks forward to another great season next year. Everyone can agree that cross-country's success comes from the support each teammate gives one another. "It's like family," junior Alyssa Moore says, "you walk in on the first day and you can just feel the love."