"A Wrinkle in Time" Wows!
One of the things you can expect from Shorecrest Drama is fantastic performances, and A Wrinkle In Time was no exception. This year's fall play opened on Thursday, November 10th, running for two weekends, before closing on November 20th. The cast was selected at the beginning of the school year. The cast and crew, with the help of Mr. Kidd's Theater Tech class and numerous adult volunteers, worked together to create an excellent show, and really showed their strengths as a drama program.
A Wrinkle in Time follows the plot of Madeleine L'Engle's book of the same name about a girl named Meg Murry (senior Melvina Fletcher) who, along with her brother Charles Wallace (Luka Shorak) and new friend Calvin O'Keefe (senior Niko Hudecek), go on a mission to save her father, who has been missing for several years. The production watches them travel through space and time, while learning about the power of love on the way there. The characters of the show had been bullied in the past for being different, but soon discover that their differences are actually beneficial, and in their weaknesses, they find strengths. The show also deals with the idea of "conformity" and "status quo", as well as other important themes.
Despite a complex and fast-paced plot, the show did a great job at keeping the audience engaged and fascinated. The cast made the show exciting, and delivered the story extremely well. The costuming and stage design conveyed the 1960s setting perfectly. The set was also extremely immerse, providing a high amount of theming. Like most Shorecrest productions, A Wrinkle In Time was highly professional and well done.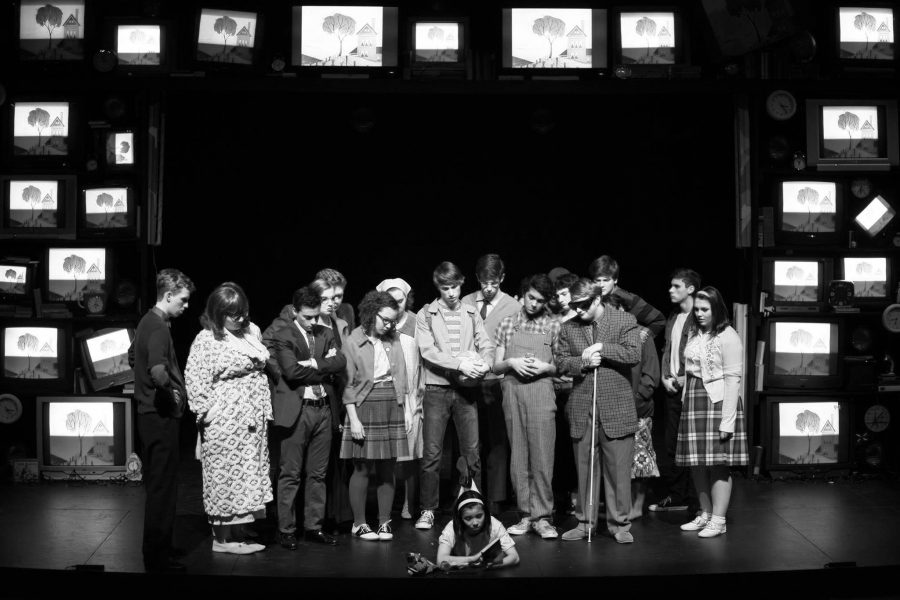 The Shorecrest production of A Wrinkle In Time showed the drama program's strengths, specifically in technology. This show involved a lot of props and parts of the set that haven't normally been used in a production, including an intensive lighting setup, an arch of televisions programmed to match parts of the show, and various other light techniques. The crew did a tremendous job of incorporating tech into the show, in a way that still conveyed the plot and allowed the story to flow. It was also apparent that the crew worked their hardest to make sure that the show ran smoothly with minimal mistakes. Everyone involved with the show definitely took the challenge of a tech-heavy show and did a fantastic job.