New Faces – Craig Van den Bosch
Teaches Art, English, and Yearbook!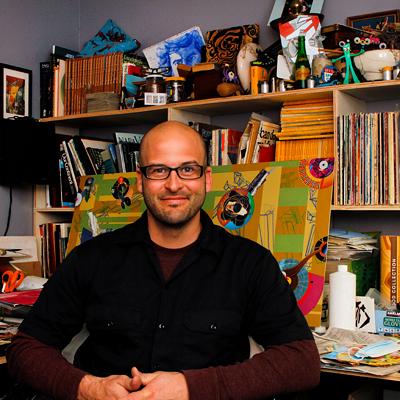 Shorecrest may have a lot of new staff members, but perhaps one of the most memorable is Craig Van den Bosch. Mr. Van den Bosch, or Mr. V, is the new teacher for Annual, Ceramics, and English. His arrival is partially due to the departure of Ms. Johnson at the end of last school year, leaving a need for a new Annual and Ceramics teacher. He definitely had some big shoes to fill, but luckily, Shorecrest found a great addition.
Before teaching, Mr. Van den Bosch worked for the Seattle Art Museum, as a Museum Educator for Schools and Educators, where he wrote and developed art lessons for K-12 students visiting the museum, offered art-focused trainings for teachers, and worked with curators, as well as internationally and locally recognized artists. In 2011, before working at the Seattle Art Museum, Mr. Van den Bosch took a substitute position at Kellogg, where he was introduced to Ms. King, who had been teaching in the adjacent classroom during Shorecrest's remodel. "We quickly found common ground through art making and teaching," says Van den Bosch. "When I left for the SAM, I kept in touch with Ms. King, through offering arts experiences for her and her students at the SAM." In 2014, he visited Ms. King's class, and "really enjoyed [his] experience in the new Fine Arts building with the students and staff". Mr. Van den Bosch has also been a judge for Art Expo several times, so when he saw an opening for Shorecrest, it didn't take much for him to apply.
Since coming to Shorecrest, Mr. Van den Bosch has certainly been enjoying his time here. His favorite things have been "The amount of generosity, hospitality, enthusiasm, school spirit and kindness shown to me and other students and staff"."SC really feels like a good home for me" he adds. For Van den Bosch, teaching has a lot of value. "I really enjoy helping people discover new connections to themselves, knowledge and the world." he says, "There is nothing better than helping a person realize their potential". This year, he is looking forward to "Building positive relationships, helping as many students as possible achieve their learning goals, getting the Annual published, lots of artwork made and reading that perfect English 10 paper". Hopefully, Mr. Van den Bosch gets to experience all of the things he's looking forward to. Welcome to Shorecrest, Mr. V!