Lunch: Shorecrest's Favorites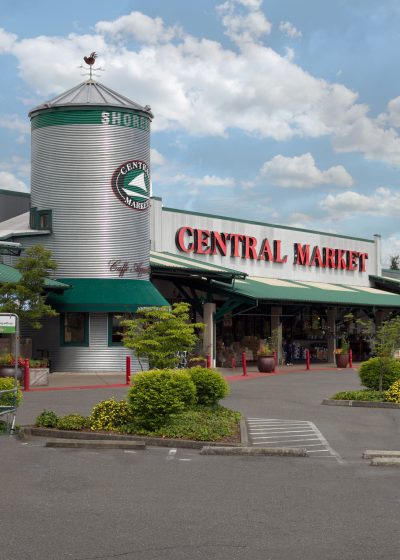 We all know the conversation overheard in the hallways or even had ourselves, "Where are we going to lunch?", "I don't know it's your turn to choose!". Picking an off campus lunch spot can be daunting, creating some tough choices. It might seem as if we live in a desert of cheap food options; all we can do sometimes is curse Shorewood and their proximity to a food oasis. Can't possibly remember all the options? Has that test drained every last ounce of brainpower and you can't make a decision to save your life? Fear not Shorecrest, the definitive school-wide favorites are here!
Central Market, usually referred to as "Central", has won the hearts of the Shorecrest student body. Cheap pizza, an abundant salad bar, and a relatively decent grocery store sushi option ensures that every member of your carpool has something that will fill them up and make them happy. (Going on an empty wallet? Walk through the grocery section for a chance at some free samples). Although the distance may be a bit far for Mondays, it shouldn't be an issue any other time of the week, but you might have to eat quickly if you leave campus a bit late.
Coming solidly in second place is Dicks, the cheap hamburger palace that has filled the stomachs of Shorecrest students for years. Close by and delightfully yummy, Dicks is the place to go if you're craving a good burger, and please, don't forget the fries. They take cards now, too! I highly recommend the fry-shake dip combo. If you haven't experienced the salty-sweet bliss of a french fry in a chocolate milkshake, you haven't lived.
If you're craving orange chicken, you can't beat Panda Express. Senior Alaine Ziegenhagel says, "I love Panda Express. It's not hard to get back to school in time, and it's a pretty good price if you buy the kids meal". Don't be alarmed if you hear "Let's go to Panda", in the hallway, because Shorecrest has taken to shortening the moniker to a much cuter name.
Tied for fourth place is Starbucks and the recent addition to the dining scene, Chipotle. Starbucks is great for a quick pick me up, and can be a nice way to get away from school for a while. Senior Sophia Gamble says "Starbucks is a great place to go if you want a quick snack at lunch, because they have a lot of great options for drinks and pastries. It can also be cheaper than other lunch options, which is always a plus." Chipotle can be on the pricier side if you spring for a burrito or a bowl, but the quesadillas come in under four dollars!
The easiest options are the grocery stores in the area, QFC and Safeway, due to the bountiful food choices, and may also be the cheapest options depending on what you buy. If you are broke, these stores give you more abundant options for lunch. McDonald's and Taco Bell are available too, although less frequented by students.
Some rarer places to try are Heaven's Scent for fried chicken, Kaffeeklatsch for some good sandwiches and coffee, and Ichi Bento to satisfy that teriyaki craving. Junior Mara Amole doesn't go out often, but instead packs her lunch for a chance to save money and attend school clubs with friends. No matter where you decide to eat, an off campus lunch can provide a nice break from school, and a good way to refuel before your last period.