Spotlight on Community Service
With less than five months to fulfill their community service graduation requirements, about 52 percent of seniors still have not completed the necessary hours. This may seem alarming, but the number is on track with that of past years. According to Shorecrest's college and career advisor, Suzanne Monson, generally about half of seniors have completed their hours by Winter Break. A rush of forms usually floods in after the holidays, "December is a really popular time for people to do things," says Monson. "I think they're already kind of filled with all the festivities and spirit of the season, and so they end up finding a way to do [volunteer work]."
Community service first became a graduation requirement at Shorecrest in 1990. It was a joint movement started by the English and Social Studies departments. Twenty-eight years later, there is a lot of community service information to remember. First, 40 hours are due by May, 1st for seniors. But if you haven't been here since Freshman year, don't worry, you won't be behind, you'll only have to turn in 10 hours for every year that you're here. Second, National Honor Society members must turn in 12 hours by May 1st annually to avoid being put on probation. Third, students can receive a President's Volunteer Service Award for completing 50 hours (if they are 15 years of age or younger), or 100 hours (if they are 16 years of age or older) between March, 1st through February, 28th each year.
Fitting community service into a busy student schedule can be challenging. But, volunteering actually teaches vital skills and can help build a student's resume. As a school, it is important that Shorecrest is actively working to "[tie] students into the community, to enhance opportunities to work with adults, and to build skills that might help when they go out for interviews or when they're applying for jobs," explains Monson. Most Shorecrest students agree (71.9 percent of those who responded to a poll) that the current community service requirement at Shorecrest is acceptable, while 21.9 percent thought the requirement should stay, but be lessened.
Scots seem to do a great job staying on top of their volunteer responsibilities, only 3.1 percent of all students have yet to begin their community service, and 53.3 percent of freshmen, sophomores, and juniors, have already completed their 40 required hours. "It makes really good sense to have [community service activities] going before your senior year," says Monson. "Nearly all colleges are asking for students to indicate what kind of volunteer or community service they have done during their high school career, and if you wait until your senior year you won't have anything to fill out [on your application]."
One student who has done a stellar job with community service is senior Izzy Davis, who has nearly 700 hours completed. "[Community service] has been probably the best part of my high school career," said Davis. She is involved in many different organizations including: Youth and Government, where she debates mock bills and attends conferences in Olympia, the Little Lemon Drops Guild, that has raised $130,000 for uncompensated care at Seattle Children's Hospital, and a horse riding center for disabled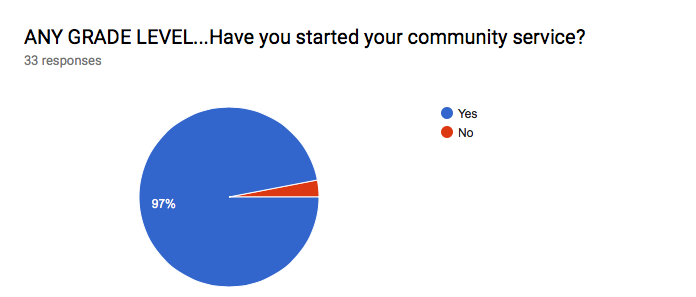 people. She completed her required 40 hours by the end of her freshman year.
During Davis's sophomore year she started a nonprofit called Express Yourself after she proposed the idea to an Ann Taylor scholarship program. "I pitched an idea for a program for teens with physical disabilities," she said, "because I grew up with a disability myself, and there were no programs for any teens. I wanted it to be a fun program, where they could communicate." The Ann Taylor company helped her develop her idea at a leadership summit in New York and offered her a grant. Running from the winter of 2017 through the following summer, the program consisted of a series of six workshops related to self-expression: creative writing, public speaking, theater, filmmaking, photography, and visual arts. She re-applied for the grant again this year, and will be putting on the program for a second time in 2018.
Finding places and organizations to volunteer at can be difficult, but Davis says, "You have to just find something you're really passionate about." Look for things that you can connect to, she recommends. "I have a specific story," she said, "and I use that to find nonprofits and programs that would be attune to that." Monson agrees with Davis, "You should always do what sounds fun to you," she says, "it shouldn't feel like drudgery."
Shorecrest Scots overwhelmingly voted that working at non profits is their favorite way to get their hours in, closely followed by helping at school and community events. If you have not started yet, or have a few more hours to sneak in before you graduate, take a look at the 'College and Career Center' tab on the Shorecrest website for some volunteering ideas. On the website you can also find community service forms to print before you head out to volunteer. Just remember to get them signed and to turn them in. "A lot of people have the forms," said Monson, "they just haven't turned them in." If you're one of the many who have some old forms crumpled up in the bottom of your backpack or in an obscure desk drawer, don't panic; Ms. Monson accepts hours from seniors as far back as freshman year.
Monson's best tip she can give for getting volunteering done in a timely manner is to "set a goal for a weekend and write it down on your calendar," then "grab a friend." When we commit ourselves to a time, and to another person, we are more likely to actually do what we set out to do. "People get caught up in 'it's a graduation requirement, I have to do it'," says Davis, "but it's honestly a privilege." So make sure to get your hours in, Scots, because volunteering is not only important for both us and our community, it can even be fun.