What's Up With the Budget? School Board Meeting & Extracurriculars
Prior to the April 4 school board meeting, rumors had been circulating on social media that prom, homecoming, band, choir trips, orchestra concerts, theater, clubs, and other extracurriculars were going to be cut. Most of these rumors were based on misinformation and exaggerated shreds of truth. While a future Piper article will dive further into the causes and consequences of the budget crisis, here's an update regarding recent School Board decisions that we hope will dispel some of the rumors that have been circulating Shorecrest and the entire Shoreline community!
Note: if you want to find more information about the budget crisis, scroll down to the bottom of this article for more links and resources.
Proposed Plan
The misinformation started when the Shoreline School District teacher's union, the Shoreline Education Association (SEA), negotiated a new collective bargaining agreement with the district at the end of March. This agreement involved numerous cuts that would allow some jobs to be saved at the expense of other provisions. One such cut was that funding would no longer be required for teacher stipends to run ELOs (Extra Learning Opportunities) like Tattoo, outside-of-class band, orchestra, and choir activities, theater productions, newspaper, and more. Activities that don't get outside funding, like lunch clubs, wouldn't be shut down, but they wouldn't be allowed to hold any outside events that required funding from the school, and teachers would not be able to do any work for free that they had been receiving stipends for. For example, Tattoo could meet during lunch, but they wouldn't be able to print their biannual magazine. Career and Technical Education (CTE) programs like robotics were not affected by this proposal. Funding for some ELOs would return after two years, and others eliminated completely. Beyond that, the specifics were unclear. It is important to note that the proposed contract did not guarantee that funding for ELOs would be cut; it simply meant that the District could choose whether or not to fund it.
According to SEA president Matt Reiman, the idea to cut ELOs did not come from the union. "The District came to us with the idea, saying that they believed they could find alternate funding for most of the stipends. The SEA Bargaining Team was skeptical that the District would ever be able to find any savings through cutting ELO." Through negotiations, which included re-negotiating many parts of the collective bargaining agreement, not just ELOs, the union was able to save up to 55 jobs, prioritizing teachers' jobs and maintaining quality education and support for students.
Most students who heard about the potential for cutting ELOs were operating off of very little information, mostly coming from emotional social media posts. Still, students were NOT happy about the proposed cuts. Among the rumors and frustrated rants online and in hallways, a call went out to attend the April 4, 2023 school board meeting.
April 4 School Board Meeting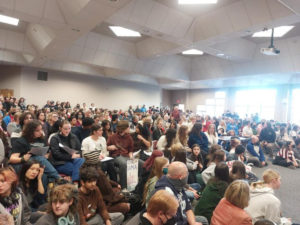 On the evening of April 4, the school board meeting was packed, with over 500 people in attendance. The meeting was moved to a different room that still wasn't large enough, and people overflowed into the hallways. Even on Zoom, viewers could see people sitting on the ground and leaning against the walls. While there is not yet an official count of Zoom attendees, it seems it might well be in the hundreds. Attendees included board members, students and their families, teachers, SEA Union reps, and even some parents of kids who had graduated from Shorecrest and Shorewood years ago but came to testify to the impact that band, choir, and other extracurriculars had on their kids.
The meeting started with a presentation about current bills that the Washington state legislature is currently discussing that may help with our budget. The school board placed some blame for the crisis on the state, citing decreased funding dedicated to education, causing school districts across the state and nation to experience similar budget issues. While COVID and underfunding from the state certainly account for some of the budget issues, some community members were not persuaded that the blame lies solely on external factors. (More information on this will be in our upcoming Piper article.)
After the board finished their presentation, they opened up the floor for comments. Over the course of four hours, 115 people stood up and gave 1-2 minute speeches. Many asked the board not to cut funding for ELOs. Some also asked the board to keep support in place for the district's most vulnerable students.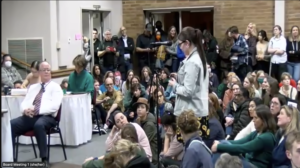 Many students became emotional when speaking about the impacts of choir, band, orchestra, and theater. The theme throughout many student and parent comments was that these extracurriculars are the reason many students continue to attend school. They are our lifelines. They give students a reason to be there. Multiple students said, "The arts literally saved my life." They also cited the potential for scholarships and enhanced college applications provided by extracurriculars. One student from Einstein middle school approached the microphone to say, "I get bullied a lot, but when I go to the choir at the end of the day…it feels like home and I know that it's an outlet for other kids who struggle with mental health. So I'd like to ask you to please, don't take that away."
Shorecrest's very own Ms. Gamble—the Graduation Success Coordinator—stood up to ask the Board not to cut support staff like herself. These support staff play vital roles in helping Shoreline School District maintain one of the highest graduation rates in the nation, and make it possible for many vulnerable students to get an education that will set them up for success later in life. Another district employee, a library technician, told the board that she felt deeply disrespected when she was informed that she would lose her job and asked, "Who is going to be helping the kids who need extra 1:1 support? Who is going to be running around, troubleshooting issues [with computers and other systems]?" One speaker said, "Please don't balance the budget on the backs of paraeducators."
Many of the students and parents who stood up to speak didn't seem fully aware of the situation and had based most of their information on the rumors they had heard. If you ever stand up to say something online or in person, do yourself and your community a favor and make sure that you are fully informed and have considered the issue from multiple angles! We talk a lot about fake news and misinformation being a problem, but people don't seem to realize that the cause and the solution lie in us.
What Now?
After patiently listening to four hours of emotional speeches, which ran until past midnight, the School Board made an announcement stating that due to the clear significance, ELO funding holds to students and the community, this funding would be ensured in next year's district budget. In other words, funding for extracurriculars will NOT be cut.
Furthermore, the Board finally took a suggestion that had been pushed by teachers and community members for months: budget reductions would be enacted over several years, not all in one. Instead of trying to get back to a 4-5% fund balance at the end of the year, which is the amount required by Board policy and thus what they had been attempting to achieve, the School Board will approve less extensive budget cuts that will result in an ending fund balance of 2-3%. Matt Reiman (SEA Union President) confirmed that "The numbers [the Board] agreed to last Tuesday – $2-$3M in reserve next year – are the same numbers their own Assistant Superintendent of Business and Finance, Jennifer Farmer, presented to them in December. I am not sure what took them so long to realize that it couldn't be done in a year, but all the students on Tuesday helped enormously." The agreement to reduce the amount in the reserve by the end of next year will hopefully further minimize the effects on students and staff in the next few years.
Although ELOs have been "saved", the Board will still have to cut at least $10.5 million so that the district doesn't go into debt at the end of the 2023-24 school year. As of their April 4th presentation, the board was planning to lay off 60-80 classified staff positions, such as library technicians and other support staff. During the meeting, Superintendent Reyes volunteered to give up a percentage of her salary, though specifics have yet to be discussed. The SEA also agreed to cut $5.8 million out of their contract, which may have saved as many as 55 jobs. Among 20+ cuts, teachers have agreed to cut 1% of their pay by removing two prep days before school starts in August. Teacher overload pay and assistance have also been cut; even if they have a large class, teachers won't get extra assistance or pay.
The Board will have to make decisions quickly, as they are legally required to alert staff whether they will or will not have a job next year by May 15. The Board is also required to present the state with a budget plan in August, or else the state will take over our budget and the district will have more restrictions on how and where they are allowed to spend money.
The Washington State Legislature has recently ended its legislative session and voted on several bills that may help increase funding for schools.
How Can Students Get Involved?
While some students who spoke at the April 4 Board meeting accused the Board of not communicating with students and not allowing them a voice in the decision process, this is not true. Since December, both Shorecrest and the Shoreline School District have sent emails, surveys, invitations to Board meetings, and invitations to be a part of the Budget Advisory Team, and Superintendent Reyes has visited the school twice to get student input and to explain the budget crisis. Just this last Friday, April 7, Matt Reiman, the SEA union president, visited Shorecrest for a listening session with students to get their input and ideas so that the SEA could be a better informed and better advocate for student interests.
If you want to get involved and make sure your voice is heard…
Check your email! In February, every Shorecrest student got an email with a survey link that less than 200 students from the entire district filled out. The survey asked members of the community (YOU) to rank their priorities so that the Budget Advisory Team and School board could make informed decisions.
Attend listening sessions with School Board Members, Superintendents, and SEA Members! These are the people making the decisions and all have expressed interest in returning to Shorecrest. These meetings are usually during HH and are open to anyone who is interested. Want another meeting? Talk to the front office, Ms. Phillips in room 139, or do some emailing.
Attend School Board meetings. Each meeting has a section for comments from the community. You can log on virtually via Zoom. Find the Zoom links and information for future and previous meetings here.
If you want to get in contact with SEA Union members, the School Board, or other lawmakers and officials, use the Internet to find email addresses and other information. To write this article, we had to do some emailing and we discovered that people in charge do answer emails, especially if you are respectful and genuinely interested.
Advocate for more education funding from the state! This is the best way for us to get more money coming in, and you can help advocate for it. The Shorecrest PTSA provides an excellent guide to advocacy here.
If you think you don't have a voice, it's probably because you haven't looked for it.
When we asked Matt Reiman if there was anything he wanted students to know, he answered, "Just that we entered into negotiations with the District because we wanted to save jobs and minimize impacts to our students. Teaching is a profession, a way to earn a living, but make no mistake, your teachers and support staff care deeply about your success and the experience you have as you move from Kindergarten to High School."
For now, we know that the board is constructing a new proposal and that ELO funding will remain. We'll see how things continue to develop in the next few weeks. If you want to find more information about the budget, check out the links at the bottom of this article and watch the news for information on new legislation that could increase funding to schools.
A huge shout out to Lily Fredericks (Shorecrest's junior school board rep and a Piper staff member), all of the other School Board members, and the community members who attended the meeting and stayed to the very end.
Thank you to those who have been working behind the scenes for months to advocate for students, teachers, and the community. Keep up the good work. Thank you!
To the teachers and staff who will lose their jobs, thank you so very much for the hard work, dedication, and passion that you have put into your students and this district. We will miss you and we are so sorry that you've ended up bearing the brunt of this crisis.
Where can we find more information?