The Sunrise Club Strikes Back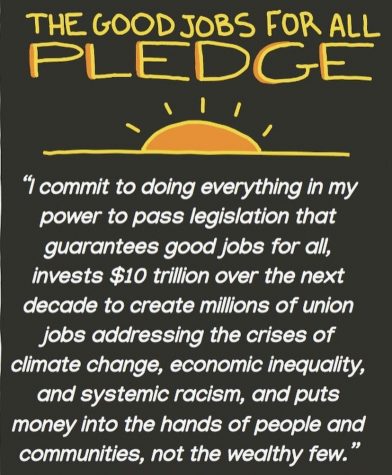 Amidst a roaring wave of chants and songs, Washington youth fiercely demonstrated their commitment to climate justice in downtown Seattle this Spring. The Good Jobs For All strike on April 22nd, organized by thirty-one teens from thirteen schools across the state, attracted over 100 people. The goal was to urge Senator Patty Murray to sign The Good Jobs for All Pledge, ensuring investment in a sustainable people-powered economy and guaranteeing accessible good jobs for marginalized communities. The campaign, spearheaded by national youth-led climate policy group Sunrise Movement, claims that a federal jobs guarantee will help stop the climate crisis, end the COVID-19 recession, and address those suffering from climate disasters. The Sunrise Movement's website states, "It will take millions of people to build a new energy grid, care for older folks, teach little kids, restore parks and buildings that have fallen into disrepair and do the work of building happy, healthy communities…we need people with good guaranteed jobs to revolutionize our infrastructure and protect our cities and communities from climate devastation." Shorecrest's very own Sunrise Movement hub has advocated for the urgency of climate action, engaging many SC students in the movement through social media and weekly club meetings. Though Senator Patty Murray has yet to sign the pledge, the fight is far from over.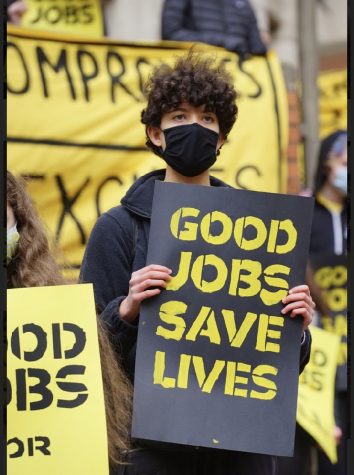 When asked about the movement's most convincing argument for why people should listen to their cries, passionate Sunrise Club member and Shorecrest sophomore Asha Viswanathan references intersectional legislation and climate justice. Viswanathan enthusiastically explains, "Intersectional legislation impacts everyone, and everyone should be invested in it. By passing the Good Jobs for All act, we are securing jobs for people in marginalized communities, taking away from fossil fuel companies, investing in green energy, and demonstrating our dedication to climate justice." With these issues affecting so many people on the planet, everyone should be invested in combating them through the Good Jobs For All pledge. Following the march, Viswanathan reflected on some large takeaways. "I was incredibly inspired by the power of the youth organizers I had the privilege of working with. They are dedicated and team-oriented people and they organized an event that Murray's staffers described as 'respectable and well-organized.' However, I still feel that we need to be more intersectional; this pledge does impact all communities but to get these communities involved, we need to explain and emphasize intersectionality!" Driven by their desire to make a true difference in the world and ensure a livable future for Washington residents, Viswanathan will continue to organize with Sunrise due to its intersectional, inclusive, and reflective nature.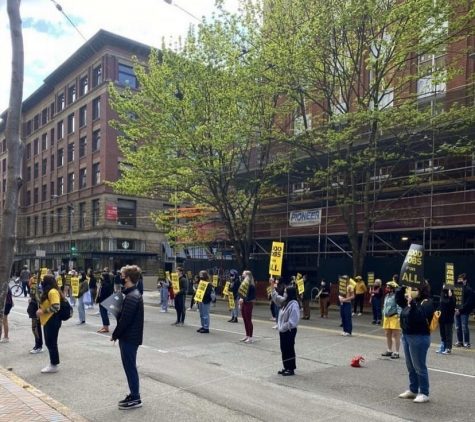 Our world has a long way to go before we can be safe from the devastation caused by climate change, but the tireless work of passionate students at Shorecrest is a step in the right direction for designating good, sustainable jobs for everybody. Although the Good Jobs for All pledge has still not been signed, striking and campaigning have played a pivotal role in bringing exposure and momentum to the problem at hand. Sunrise Hub students are committed to achieving what was previously thought impossible and are currently writing letters as well as reaching out to Murray's staff in order to get the pledge signed. According to sophomore Bella Tancreti, founder of the Shorecrest chapter, there's still much to be done. "We are going to keep pushing for a Green New Deal, which would encompass a Good Jobs Guarantee as well… I'm continuing to be hopeful for the future, even though it is sometimes difficult to see the light at the end of the tunnel, but seeing people turn out and stand in the street is very cool."  The work will never be truly over in ensuring a safe and livable planet, but every day we move a little bit closer to making that seemingly far-fetched dream a reality. If anyone would like to get involved with the Sunrise Movement, they can visit the website at https://www.sunrisemovement.org, follow the Shorecrest Hub or the national organization on Instagram (@sunriseshorecrest and @sunrisemvmt), or attend a virtual meeting- you can message the Shorecrest Sunrise account for the link and time or find it on the Shorecrest website.