I Watched All The Superhero Holiday Specials So You Don't Have To
I'm kind of a massive nerd when it comes to comics and superheroes. I grew up reading tons of comic books, like Legion of Superheroes, Young Justice, and Spiderman, just to name a few. I've seen all the Marvel movies more times than I can count and I've even suffered through Batman vs Superman and the later seasons of The Flash. So in the spirit of winter and all its related holidays, I decided to watch as many superhero-related holiday specials as I could find and then rank them all. There are definitely some that I missed, but I feel as though I've found a good sampling of them.
Before we jump into it, let's go over the rating system. I decided to split each rating into 3 sub-categories. These include Humor, Action, and Heart. Humor has always been a staple of superhero stories, and I believe it's a big part of what makes a superhero story good. Action is fairly obvious; you can't have a superhero without some fighting. Finally, I'll be ranking the stories on Heart, or how sweet and holiday-like they are. Each of these categories will receive a rating out of 10 stars, then those ratings will be combined and divided by 3 to get a final score out of 10. I'll also be giving a short review of each special so that one can better understand why it received the rating it did.
Now that that's out of the way, let's find the best superhero holiday special of all time!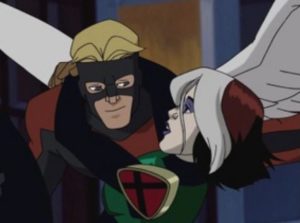 X-Men Evolution, Season 2, Episode 9, "On Angels Wings"
Where to watch: Disney+
Humor: 1/10
Action: 4/10
Heart: 2/10
Total: 1.83/10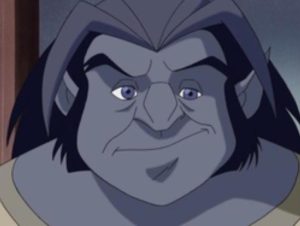 Angel, a previously unknown mutant, starts committing heroic acts during Christmastime. This catches the attention of the X-Men and their foe Magneto, who both wish to recruit him. This episode has some attempts at humor, but they all fall flat and are generally unfunny. The action isn't bad, but there isn't much of it. One action sequence I did enjoy was the confrontation between Magneto and Angel; it was a good demonstration of both of their powers. This episode is also lacking in heart. It has some nice moments, but they're not really anything special. The episode ends showing a montage of how each X-Man is celebrating the holidays, which I did enjoy even if it went on a bit too long. I've decided to deduct half a point from the total score because the character designs and animation make me physically ill. Especially Beast. I strongly dislike this show and would actively encourage you not to watch it. This episode is officially the worst superhero holiday special I have ever seen.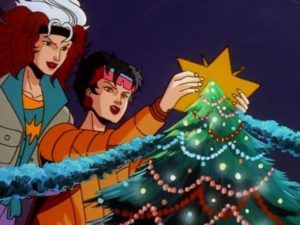 X-Men: The Animated Series, Season 4, Episode 14, "Have Yourself a Morlock Little X-Mas"
Where to watch: Disney+
Humor: 1/10
Action: 2/10
Heart: 3/10
Total: 2/10
Jubilee and the rest of the X-Men try to get Wolverine to celebrate Christmas with them, but he's not interested. Meanwhile, a group of disadvantaged mutants seeks out the help of the X-Men after one of them falls deathly ill. This episode is severely lacking in humor, choosing to take a more dramatic tone. However, it also lacks in the action category. The best action scene was Storm saving an ambulance from crashing, but that was fairly uneventful. The episode tries to shove a moral at the end about material items not being everything and being grateful, but it doesn't really land. Overall, this episode isn't bad, but it's fairly boring and I wouldn't recommend it.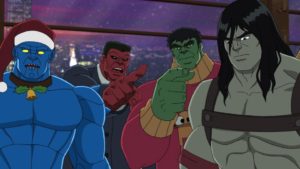 Hulk and the Agents of S.M.A.S.H., Season 1, Episode 26, "It's a Wonderful Smash"
Where to watch: Disney+
Humor: 4/10
Action: 4/10
Heart: 1/10
Total: 3/10
Hulk and his team are trapped in a false reality where their lives are perfect. They need to break free with the help of Rocket Racoon and defeat The Collector. This episode was actually funnier than I expected, though I think it was mostly unintentional. Something about the Hulk being so well-spoken is very entertaining to me. However, I think I ended up cringing more than laughing. I enjoyed the action quite a bit, and there was plenty of it. My main issue is that the camera moves around and randomly zooms in during fight scenes, which is pretty annoying. This episode was barely a Christmas special and is definitely lacking much heart. I suppose the moral was about not being greedy and the importance of family, but it's so forced. This wasn't the worst I watched, but it wasn't good.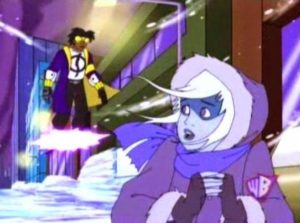 Static Shock, Season 2, Episode 5, "Frozen Out"
Where to watch: HBO Max
Humor: 1/10
Action: 5/10
Heart: 4/10
Total: 3.83/10
A young homeless girl with ice powers unintentionally freezes the city. Static Shock has to help her and protect everyone else. This episode has a more serious tone, though there are some moments that are meant to be funny. There is some pretty cool action, really showing the full extent of Static's powers. However, the lackluster animation holds it back a bit. This episode tries to have a good moral about helping people and mental health, but at times it feels like I'm being lectured and the message doesn't fully land. Overall this episode wasn't terrible, but it wasn't great either. I am going to give this episode an extra half point for focusing on other winter holidays, specifically Hanukkah and Kwanzaa, rather than Christmas like the rest of the episodes on this list.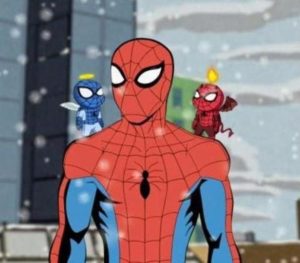 Ultimate Spider-Man, Season 3, Episode 11, "Nightmare on Christmas"
Where to watch: Disney+
Humor: 4/10
Action: 7/10
Heart: 4/10
Total: 5/10
Spider-Man feels unappreciated after being left alone on Christmas Eve. He ends up stuck in a dream-world where he quits being Spider-Man and has to choose between a perfect personal life or saving his city. This episode tries very hard to be funny but falls flat a good chunk of the time. There are some pretty funny quips though, so it ends up with a decent humor score. It also gets a good action score, with some cool fight scenes and acrobatics. These scenes are also improved by the retro art style used in parts of the episode. There was some decent heart, with Spidey deciding that he likes his life even if it isn't perfect. Overall, I enjoyed this episode. It was a fun watch and a good version of Spider-Man.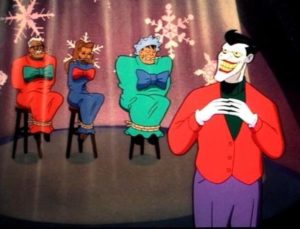 Batman: The Animated Series, Season 1, Episode 38, "Christmas with the Joker"
Where to watch: HBO Max
Humor: 8/10
Action: 9/10
Heart: 3/10
Total: 6.6/10
After the Joker escapes Arkham Asylum on Christmas Eve, he wreaks havoc on the city and kidnaps several influential figures in Gotham. While trying to stop him and rescue the captives, Robin attempts to get Batman in the holiday spirit. This episode has plenty of great one-liners giving it a solid score in the humor category. As always, the stylized animation of Batman: TAS provides great action, with a number of explosions and some good old-fashioned fighting set to Nutcracker music. The one category this special is lacking in is the heart. While there are some sweet moments, this episode could have been any Batman: TAS episode, it just happens to be set at Christmas.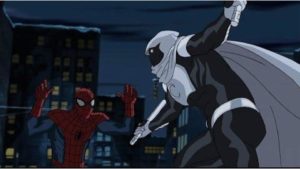 Ultimate Spider Man, Season 4, Episode 24, "The Moon Knight Before Christmas"
Where to watch: Disney+
Humor: 6/10
Action: 8/10
Heart: 7/10
Total: 7/10
Spider-Man runs into Moon Knight on Christmas Eve while house-sitting for Doctor Strange. The two team up to defeat Mysterio's daughter who has come to finish what her father started. This episode has some pretty funny moments, plus, Moon Knight and Spider-Man make a good comedic duo. It also has some really cool action. Myseterio's illusion powers make for good fight scenes and both Moon Knight and Spider-Man have very cool fighting styles. The episode also has some really nice moments and humanizes its villains rather than just making them evil. The episode ends with a genuinely sad moment where the original Mysterio almost sacrifices himself to save both his daughter and Spider-Man. I really liked this episode and would recommend it.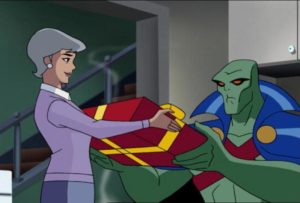 Justice League, Season 2, Episode 23, "Comfort and Joy"
Where to watch: HBO Max
Humor: 7/10
Action: 6/10
Heart: 9/10
Total: 7.3/10
Martian Manhunter has no family of his own, so Superman invites him over for the holidays. The rest of the League celebrates in their own ways, with the Flash playing Santa for a group of orphans and Hawkgirl getting into a bar fight. This episode is pretty funny, with some good one-liners and visual gags. There isn't much action, but the few fight scenes are pretty cool. I like that Hawkgirl got to showcase her skills in this episode. This episode actually had quite a bit of heart, with Martian Manhunter understanding what the holidays are about and learning more about humans. This episode has a great vibe and really captures the feelings that I have during Christmastime. Overall, this was a great episode and I would definitely recommend watching it.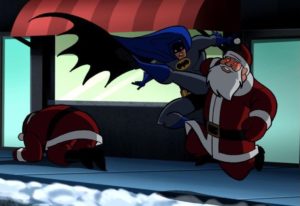 Batman: The Brave and the Bold, Season 1, Episode 4, "Invasion of the Secret Santas!"
Where to watch: HBO Max
Humor: 8/10
Action: 9/10
Heart: 9/10
Total: 8.6/10
Red Tornado attempts to understand the Christmas spirit. Meanwhile, Batman attempts to save the city from the villain Fun Haus. This episode is cheesy but in a good way. While the jokes are dumb, they made me laugh most of the time. There was some good action as well. It really showcased Batman's resourcefulness and was just cool to watch. This episode also had plenty of heart. We got to see flashbacks to Christmas before Batman's parents died, and they were actually very emotional. It was also really sweet seeing Red Tornado try to understand Christmas as a robot. Overall, I loved this episode and would strongly recommend it.
So there you have it! Batman: The Brave and The Bold's holiday special is (in my objective opinion) the best superhero holiday special of all time. It has a perfect balance of humor, action, and heart and is overall a fun watch. An interesting thing I noticed is that DC Comics shows mostly scored higher than Marvel shows. DC's overall score was 6.582 out of 10 stars, while Mavel's was 3.766 out of 10. Also, only one of these episodes was about a winter holiday other than Christmas, which I find kind of disappointing. I hope that in the future we'll see more diverse holiday related media. This was a fun project to do and I really enjoyed going back to shows I watched when I was little, as well as discovering new ones. Have a great holiday season and make sure to celebrate with some good TV or movies!