Youth Activists in Climate Change
A recent overview of climate change, and various youth advocates and activists to support.
Being struck by the various possibilities of natural disasters, we feel that we cannot do much to help the environment now due to our age and lack of power in this world. However, if we can't do anything, then what are the people who are able to do something, such as our world leaders and politicians, doing about all this? 
In October and November, the COP UN Climate Conference was held in Glasgow. It resulted in a slightly disappointing lack of action from three major countries but definitely did have many hopeful points, such as the fact that over 40 nations have agreed to cut coal use within the 2030s and 2040s, and over 100 nations agreed to end deforestation around the globe by 2030, the latter gaining 19.2B US Dollars in funding. Apart from those milestones, one of the major disappointments coming from this summit is the fact that while there were many countries cutting coal usage and emissions, the top consumers of coal (US, India, China, and Australia) did not actually pledge to do so. 
However, the US, along with many countries in the EU, as well as the UK and South Africa, agreed to a partnership to support the transition away from coal for South Africa. Additionally, India has set ambitious goals and targets for low carbon power by 2030 and hopes to eradicate all greenhouse gases by 2070. China and the US have also pledged to work together for accelerated climate change action that'll be accelerated due to the imminent environmental threats global warming causes around the world.
Before the recent COP26, there was the Paris Agreement, drafted and passed at the COP21 conference in Paris. A legally binding international treaty, the end goal of it is to be able to limit global warming to 1.5 degrees Celsius, and it requires a significant change in economic and social fronts by the countries who signed on to the agreement. There's quite a bit about providing financial support and assistance to currently developing countries, so they can continue along with their NDCs, or Nationally Determined Contributions. The progress for the deal is tracked with an enhanced transparency framework or ETF. Starting in 2024, all the countries involved will transparently report on their actions for climate change and the progress that they have been able to make. To fulfill the Paris Agreement, there need to be many more actions taken for the cause. The making of it has already caused low carbon solutions and new markets as well as zero-carbon solutions, and it's becoming prevalent in the power and transport industry especially. 
It's reassuring to know that there are agreements, deals, and initiatives in place to attempt to help us fix at least a bit of this climate crisis, but is there anyone working for this cause who would be relatable to us, someone that we could support and make a difference with? If all we have the power to do is advocate, support, learn, and understand, then there are inspiring young people that we can relate with who will be able to help us do just that. There are many youth activists out there, supporting many different causes related to social justice and climate change. Many of these activists also rely on the support of the public to make their cause known, and they are all very inspiring and can give quite a bit of hope for the future, especially when our governments are unable to provide that level of assurance in our future.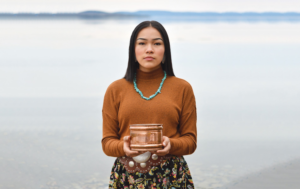 The first youth activist to come to mind currently is Autumn Peltier, a young advocate for clean water all across Canada and the globe and a First Nations Canadian. She is the Chief Water Protector for the Aniishnabek Nation and is currently seventeen years old. Autumn is also part of NAAEE's (North American Association for Environmental Education's) "30 under 30" and has spoken at various different events across the globe. 
She heavily emphasizes the importance of clean drinking water all across the globe and tries to spread this message and awareness of it as far as she can. Much earlier in her life, she attended a ceremony at the Serpent River First Nation and she saw signs warning everyone about the toxic drinking water in the area. Canada does have a problem with contaminated drinking water on reserves, due to pipelines and pollution. (The US also has this problem; the Dakota Pipeline is a notable example of this). Learning about all this from her family members and realizing how much more is at play here on top of advocating for clean water, Autumn has her focus but understands how important the work she's doing is on many fronts, especially for the rights of indigenous people in "first world countries", such as her home nation of Canada.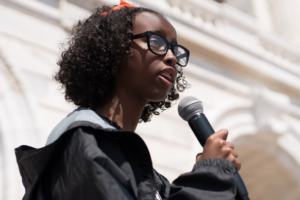 There are many more young people like Autumn working and advocating for a needed cause of some sort. A second is Isra Hirsi, who is a climate and racial justice advocate. She is the co-founder of the U.S Youth Climate Strike and also co-directs the operation. Isra has spoken quite a bit about environmental racism and not seeing faces who looked like hers in crowds where she's spoken, knowing that even with a diverse group of organizers, the attendees may be all the same faces. Isra has talked about how it is important to also have a diverse group of people who will be able to fight for all the specific challenges that they are facing that tie in with environmental and climate-related complications.
As both a Black and Muslim young woman, Isra's advocacy for intersectionality in the climate justice movement is not out of place in the slightest. After all, global warming and climate change disproportionately affect brown and Black communities, and the youth in those communities feel a greater sense of urgency for this crisis compared to all their white classmates and peers. Climate change acts as a "threat multiplier", as it "increases the risk of adverse health outcomes" for Black and brown communities, as said by Natasha DeJarnett, a research coordinator at the National Environmental Health Association. 
Communities of color are exposed to air pollutants more often than white communities, and they also often have less infrastructure. Ever-worsening hurricanes are not helping communities in areas that are disproportionately affected. There is a much higher asthma hospitalization risk for black youth, and even though Black and brown people are much more affected by climate change than white people, the faces you see in the movement are mostly white people. Isra realizes this and heavily recommends that teens of color join their local environmental clubs and be able to join the movements needed to create change in their communities.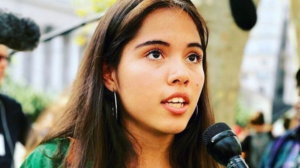 One more young advocate for intersectionality in climate activism is Xiye Bastida,  a Mexican-Chilean girl who's also part of the Otomi indigenous group in Mexico. She says that her upbringing with the worldview that her parents gave her, along with seeing all the natural disasters happening in her hometown, spurred much of her climate activism. She began by joining her local high school's environmental club, but all she saw in that was ineffective ways to fight this looming threat, and she also organized Fridays for Future and various climate strikes in schools and businesses, primarily in New York. 
What Xiye says is ineffective is a "view of environmentalism… one that blames the consumer for the climate crisis and preaches that temperatures are going up because we forgot to bring a reusable bag to the store." Taking care of the environment and Earth, as she says, is about how decisions are made as a collective. "There is greed, there's pride, there's money, there's materialism." If society was able to change the values it currently holds, she thinks that there would be no need for her activism, and that there should not be a need for so many students to skip school to try and make the adults listen to them, and that with all the combined efforts that she's trying to put together, it could finally make people listen.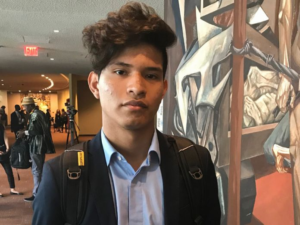 An additional young person with similar ideas to Bastida is Bruno Rodriguez, who leads the Fridays for Future movement outside of the U.S in Argentina. Another main focus for him, alongside a need for the adults in power to listen, is for large companies in particular to be able to listen and help out the cause, as they are also the ones at the source of climate change. Alongside wanting corporations to value people and the future over wealth for themselves that will only last currently, he is interested in making sure that there are results for whatever a government, such as Argentina's, is doing for climate change as he claims that all that is there is simply just 'symbolic', and he wants all those symbols to manifest into something real.
All these people have quite a few things in common, their bravery and courage, their passion for their causes, but most importantly for us, they all need us to support them in their causes. Their courage and their causes can only continue if we give them our support, and we can only help bring change in this world if we support those who are doing so directly.
Please remember, however, there are so many more like them with so much passion to create a safe and healthy future for our planet. Look them up, then follow them or like their posts. Even little things can help them if many people do it. Bringing more attention to everything that's improving is a beacon of hope for many and will inspire more people to ameliorate our world.