Virgil Abloh: The Multi-Talented Legend
Virgil Abloh was an incredible, multi-talented inventor. He transformed fashion for the better and broke barrier after barrier. He discovered new paths in an exclusive industry and inspired every life he touched. Abloh was a non-traditional man but became the most powerful Black executive in the most influential luxury group in the world. He was ambitious and led an entirely new demographic to high fashion.
Him
Virgil Abloh was a first-generation Ghanaian-American, born on September 30th, 1980, and raised in Rockford, Illinois near Chicago to Nee and Eunice Abloh. His mother was a seamstress and taught him to sew at a young age. He studied civil engineering at the University of Wisconsin-Madison and earned a master's degree in architecture from the Illinois Institute of Technology.
Impact on Music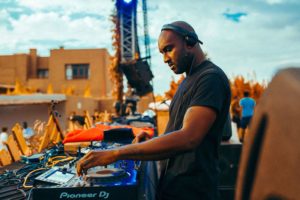 Virgil Abloh was a creative DJ and was prominent in the music industry. He would DJ at music venues around the world. Virgil Abloh was interested in music from a young age and began DJing at house parties. At the beginning of his career, he co-founded Been Trill, a DJ, and streetwear collective in New York City that developed a heavy following and was extremely popular at festivals, including Coachella, Lollapalooza, and Tomorrowland. He released his first EP "Orvnge" with producer Boys Noize in 2018 and had his own Vegas Residency at XS Nightclub in 2019.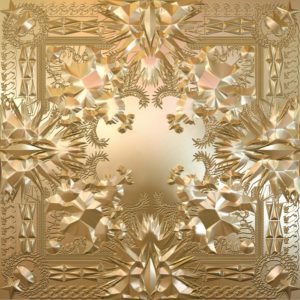 Virgil Abloh also has art direction under his belt. He connected with Kanye West in 2009 at a Fendi internship program, and they became fast friends. Kanye West named Abloh as creative director of Donda, his agency, in 2010. West propelled his popularity as one of hip-hop's most trusted creative directors. Virgil Abloh designed the cover art for some of the Kanye West albums,  My Beautiful Dark Twisted Fantasy, Yeezus, Summer, Watch the Throne (along with Jay-Z). He gained a nomination for art design for the album "Watch the Throne" at the Grammys. Abloh also made album art for Kid Cudi and 2 Chainz and directed the music videos "Fashion Killa" by A$AP Rocky and "XO Tour Life" by Lil Uzi Vert.
The Reformation of Fashion
Fashion was Virgil Abloh's most impactful field. In 2009, when he met Kanye West, he signed a sneaker collab with Louis Vuitton and went to fashion week as part of the LV's fashion team. He became the artistic director for Louis Vuitton and in 2013 founded Off-White with them, a fashion company that embraced both women's and men's wear. Off-White became increasingly prominent because it bridged streetwear with high fashion. Virgil Abloh understood he could go directly to consumers to market and advertise clothes, and as a result, he gained a huge influence with his Instagram account at an astounding 6.5 million followers.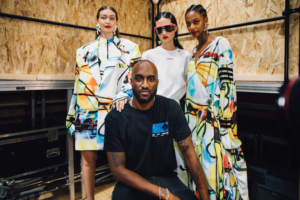 Virgil Abloh used the 3% approach in fashion. He believed that a new design can be created by changing the original by 3%. Critics disliked his approach, claiming he was duplicating past articles of clothing and he was savvier at repackaging than constructing fashion from scratch. Abloh didn't let the critics stall him and emerged as one of the most popular and influential fashion designers of his generation. Abloh held fashion shows everywhere, even taking some to Paris. For every runway show, he produced the soundtrack and would DJ his own afterparties. The music would be released to Soundcloud after the event.
Virgil Abloh was at the apex of the fashion industry. He dressed Beyonce, Michael B Jordan, Kim Kardashian, Serena Williams, and many more. He designed the "embroidered bib" Timothee Chalamet wore to the Golden Globes in 2019 and Hailey Bieber's exquisite Off-White wedding dress. For Serena Williams, he designed her tennis competition outfits, and for Drake, his personal plane with a celestial blue sky and cloud pattern. He opened an exhibit at the Museum of Contemporary Art in Chicago titled "Figures of Speech". His work can also be seen at the Louvre and Gagosian.
Everybody Loves Virgil Abloh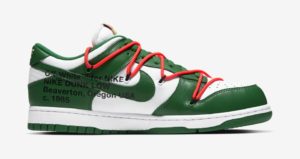 Virgil Abloh was widely cherished by the fashion industry. He had a contagious personality and as a result, had many collaborations. Nike collaborated with his brand Off-White for a line of sneakers that united a variety of styles and Helvetica fonts and continued to collaborate on numerous collections. Nike and Off-White achieved the Shoe of the Year award at the 2017 Footwear News Achievement Awards. The Off-White label also collaborated with brands such as Rimowa, Mercedes Benz, the NBA, Levi's, Moncler, Jimmy Choo, Kith, and Timberland.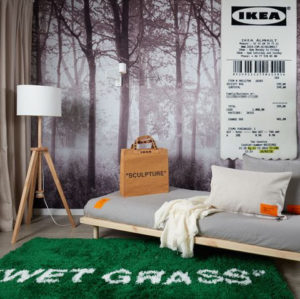 Abloh also contributed to a line of furniture. He formed Grey Area, a branch of Off-White fixated on furniture. He did a clean-cut, crisp, "Markerad" collection for IKEA and a 3-piece collection with Swiss Design company Vitra. He also drafted refillable bottles for Evian and the Big Mac cartons for McDonald's.
His Influence Even Withstanding Death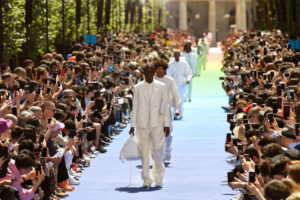 In 2019, Virgil Abloh was diagnosed with cardiac angiosarcoma after an MRI scan found a tumor in his heart, and he stopped traveling due to exhaustion. In July 2021, he was promoted to a new rank in Louis Vuitton's Moet Hennessy that would grant him work across the company's 75 brands. He passed at 41 after a 2 year battle with cardiac angiosarcoma on November 28th, 2021. His death was verified by his family in an Instagram post. Abloh is survived by his wife, Shannon Abloh; children, Lowe and Grey Abloh; and sister, Edwina Abloh.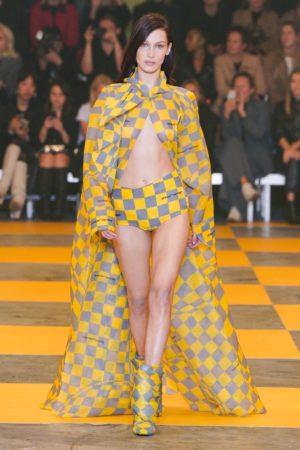 Virgil Abloh is acknowledged for revolutionizing the fashion world in what consumers want to wear, what brands want in a designer, and the definition of fashion. He never envisioned himself as a fashion designer, he observed himself as a "maker". He was named the most influential person of the year in the 2018 issue by Time Magazine. Virgil Abloh saw the unrest in the black community after the social justice protests over the summer of 2020 and established the "Post Modern" Scholarship fund and raised 1 million dollars to encourage black students to go into fashion. He innovated sneakers and created some of the most iconic imagery in music in the past 2 decades. Contemporary fashion owes its success to Virgil Abloh. Even past his death, he still continues to influence the younger generation today with his beliefs that clothes were figments of identity and that you can be interested in many careers and pursue them all.