Strong, Peaceful Message in Shorecrest Protest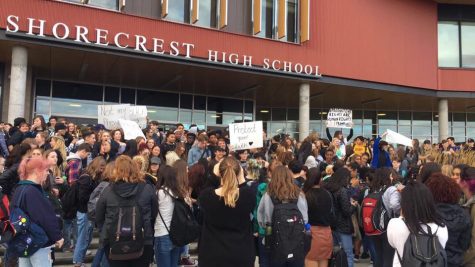 On Monday, November 14th, students walked out of their fifth-period classes, and gathered at the front of the school. Their protest comes six days after election day, where Donald Trump had been elected as the 45th President of the United States. Many Americans were outraged by the results, due largely to the fact that Donald Trump had made many controversial comments during his campaign. "So many people, including myself, are scared to death because of this election" says junior Samaya Sullivan. Those who were upset wanted a way to express their outrage in a way that felt purposeful, and connected to a larger group. Realizing that protesting would be the best way to do so, multiple protests were planned throughout America, and eventually, one was planned at Shorecrest.
Students, many holding signs or flags, began the walk-out by standing together, then began to march, chanting things such as "Not My President!" or "Her Body, Her Choice". The protest worked its way onto 15th Avenue, where they were able to catch the eyes of more people. "I was really glad we were in the attention of bystanders and people driving by, and it was great knowing they could see us and see our unrest" says Sullivan. The protest seemed to help students feel more connected as a community. "We were already a pretty tight-knit community, but when we all supported and loved each other and came together on an issue like this one, I think it made us stronger" adds junior Hanna Roufs.
Despite the fact that the protest was a reaction to the election, there were many reasons why students chose to participate. "For me, the protest was an outlet for all of the emotions I had" says Sullivan. "I wanted to protest to express my feelings towards the outcome of the election, not necessarily about which candidate became president-elect, but about the policies that he has that specifically target friends and family I'm close to" says Roufs. Another reason students might have decided to protest could simply because they didn't feel like attending class, or because they had friends who were participating. With such a large number of students, there are countless reasons as to why students chose to walk out.
As many students left class on November, 14th, others stayed indoors. Their reasons for opting out varied. Some had fears about how the protest was going to be conducted. "I was afraid it might get juvenile or violent" says junior Juliette LaMarr. This was a common worry among many who saw the passion shared by the student body, and foresaw it getting out of hand. Many thought they may get into disciplinary trouble if it became violent. The walk-out did, however, stay very peaceful. "I support the protest" LaMarr says, "It was a positive thing that they did, I'm proud of how our school came together even though I didn't participate".
For many students, although they did not support the president elect, did not feel comfortable with protesting just yet. "While I disagree with many of Trump's ideas, and believe many of the things he's said to be completely unpresidential and disgustingly inappropriate, I want to give him a chance…I didn't want to take my time to protest things he may never do" says senior Anders Wennstig. A large amount of students who chose not to walkout seem to agree that they would be ready to protest when, and if, Donald Trump takes any possibly harmful actions. "I would most definitely join a protest which was against a formal bill or law which would hurt and harm minorities or groups which needed defending" stated Wennstig.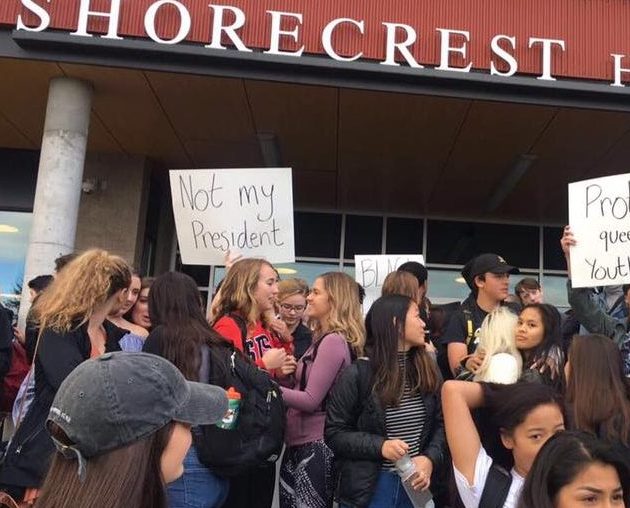 A few students did not walk out because they were content with the outcome of the election. "I did not participate because the candidate I most supported was Trump, and [the walk-out] was marketed as an anti-Trump protest" says an anonymous junior. Many thought there were better ways to handle the emotions dug up after the election. "I felt it was not a constructive solution to the feelings people were having" says the same junior, who suggested a "discussion forum where people could express thoughts and have them addressed by a group," instead of "dividing the school population."
After it was finished, comments, remarks, and talk about the protest remained calm and collected. "This could have turned into a divisive thing" LaMarr says. "But, they kept it very mature". Everyone had their own personal reasons to participate or not, and the student body as whole was very respectful of their peers' decisions.
A huge part of the protest was the involvement of staff members and other adults, specifically parents. Since the protest meant missing sixth period, participants needed to figure out how they were going to miss class. For a lot of students, deciding to protest also meant getting permission from a parent or guardian in order to get their absence excused. "Of all of my friends who participated, most of their parents supported their decision to protest as long as they knew that it was supposed to be peaceful," Roufs remarked. "My parents fully supported me doing the protest, they just wanted me to be safe and keep it peaceful." While most parents seemed to be accepting, there were some who weren't too keen on the idea, and feared that a protest during school would distract from learning. "They didn't want me to participate, and aren't going to excuse [my] absence" junior Sierra Bavik explained. "My mom said that she would have no problem with me doing it outside of school hours, but she would prefer [for] me to be in school". As far as staff goes, students felt like they were generally supportive. "From the staff that I heard from, they all seemed to be pretty supportive and understanding" says Bavik. "I didn't hear any negative remarks from [the] staff".