Tattoo Pivots to Virtual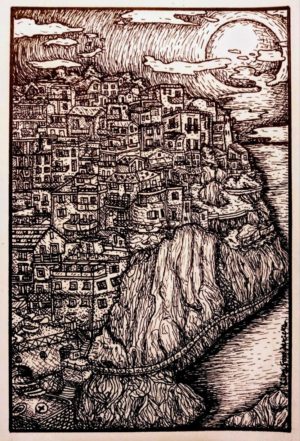 If one was paying attention to the announcements recently (and it's perhaps a high expectation that one was), they might have heard an announcement about the publication of a winter Tattoo magazine and their virtual coffeehouse. Behind this brief message, delivered among the hustle and bustle of daily academic life to a school full of half-asleep students, there's actually a long and storied history.
Tattoo, Shorecrest's student-run literary arts magazine, has been around since 1963: before any current students were even born! Over the years, many things have changed, the time the club meets, how submissions are accepted, which teacher is the club advisor, but many things have also stayed the same. Every year, Tattoo publishes two magazines: a winter magazine and a spring magazine, full of art and writing submissions created by Shorecrest students and faculty and voted on by club members. And twice each year, to go along with the release of each magazine, Tattoo holds a Coffeehouse: a gathering where students perform, often spoken word or musical. Each Coffeehouse has a different theme; past themes include JoustHouse, SpaceHouse, and, most recently, TimeHouse.
Fun fact about Tattoo: the name does not come from tattoos, like the kind you get on your arm. Instead, it comes from "a Scottish word to describe celebration and clan lore, which holds true to our school's history while embodying our mission to embrace community and celebrating storytelling through art," to quote the About page on the latest magazine.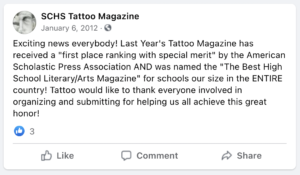 Here's another fun fact: in 2012, Tattoo was named Best High School Literary/Art Magazine (for schools of 100 to 1,700 students) in the country by the American Scholastic Press Association, and received a first-place with special merit from the same organization. What an achievement! Tattoo hasn't won any awards since, not because the quality has gone down at all, but simply because it hasn't been submitted for contention, due to cost and shifting priorities.
A long-standing tradition at Tattoo is voting parties, where club members vote on which art and writing submissions should be included in the magazine (anonymized, so the voters don't know who created the pieces). Last year, voting parties were held on Zoom, and club members voted with those little green checks and red Xs. Now that school is back in person, voting parties are held in person at Ms. Haines's room, during lunch, and after school. However, "even though we are back at school, we can't quite do all the things we used to do," says editor-in-chief Elizabeth Howlett. "We used to have voting parties at editors' houses where people would bring food and there would be a buffet while we looked at art and writing. I remember going to those as a freshman and enjoying the time spent in Aiko's, a former editor in chief, basement."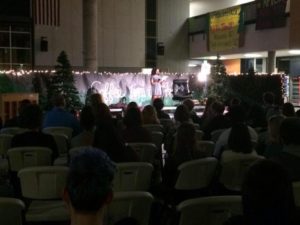 Another long-standing Tattoo tradition is Coffeehouse, the twice-annual event where students perform and the printed magazine is distributed. Normally, Coffeehouse is held in the Commons, with a large gathering of students and a supply of food. Club members would paint a banner to hang up behind the stage. And there's a fun tradition around the banner, Elizabeth says. "The editor in chief always stamps their foot in paint somewhere on the background and it's always funny to see them hopping back over to the sink to wash the paint off."
The latest edition of Tattoo (the Winter 2022 edition, which was released January 21, 2022) is the third virtual edition, following the two magazines from the 2020-21 school year. Publishing the magazine virtually allows for some new opportunities. Editor Rowan Wasserman says, "Our virtual magazine is nice in that we can accept all art pieces in full color, as opposed to most of them being in black and white as they were in the physical copies. It's also nice to see the submissions of short films which we were never able to take in the past." However, it just isn't the same as seeing your work in a printed magazine. "Although submissions are still considered officially published work, sometimes, it is nice to see your work being part of a physical book that is being sold," says Elizabeth.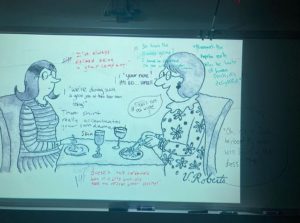 Tattoo the club is based around the magazine, but there's more to it than just voting on submissions and planning Coffeehouse. When it's not voting season, club meetings include activities like caption contests, short art prompts, pumpkin painting, blackout poetry, and more! Club meetings are super fun. "Tattoo has always had a great community around it, from the support we get from our staff advisor (love you Mrs. Haines) to every club member, it's just a great group of people. I love our club meetings, getting to sit down with your friends and write and make art with no limitations, it's just a really cool experience," says Rowan. It's also an excellent place to explore and improve your writing and art with low stakes, whether through club activities or by submitting to Tattoo and hearing feedback from voting parties.
Unfortunately, club membership and magazine submissions have been decreasing in recent years. In part, this is due to the COVID pandemic. "During the pandemic, I think many clubs saw a dwindling in their numbers, and it has been hard to get our numbers back up partly because underclassmen, who started school online, don't know about us. Tattoo really relies on FUTURE editors, club members, and contributors, and COVID has brought those freshmen and sophomore numbers down," says Elizabeth.
So, the obvious answer here is to come to Tattoo, and to submit to the magazine! If you're a Shorecrest student or faculty member who has made any art or writing, even if you don't come to club meetings, take a couple of minutes to submit your work to Tattoo, and maybe it'll get published. If you think the club sounds fun, come to meetings. You're entirely welcome to show up in the middle of the year unannounced. Don't you want to be part of a tradition that's been going on since 1963? Of course, you do. 
Tattoo meets Mondays at lunch in Ms. Haines' room, 249.
You can read the winter edition of the magazine at this link and watch TimeHouse here. Submissions for the spring magazine will open soon, and when they do, the link to submit will be on Tattoo's website. Everyone is welcome and encouraged to submit, even if you aren't a club member!
If you have any questions, you can contact Tattoo editors by emailing [email protected], or by contacting @schs.tattoo.magazine on Instagram.