Community Service: Hours, Places, and Changes
Scrolling on the Highland Piper Website, you may wonder what inspired me to submit such a seemingly boring article. While writing the piece, I've wondered that myself. Up to a month ago, I didn't know anything about community service, and since then, I've scoured every single district website, looking for volunteer links. And all because one day in HiHo, I heard a girl say, "I'm a junior and I don't have any community service hours!" and I, like most other students in the room, had a jolt of panic.
I hadn't marked down any hours either, and even though I was nowhere close to graduating, I still was a little stressed. Why hadn't I heard anything about community service yet this year if it was January already? How many hours did I need? Where should I go to volunteer? Are we even required to fulfill community service anymore?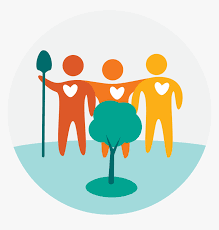 As we enter into the second half of the school year, many students are reminded of the ever-increasing pressure to make sure they're ready to graduate. And even though it's a graduation requirement (or it was, we'll get to that in a second), community service is one thing there just isn't that much information about. The Shoreline School District requires that each student have at least 40 hours of community service in order to graduate, and especially during a pandemic, it's hard to find places to volunteer in person.
Almost every time I hear community service mentioned, there's always a general air of anxiety and confusion. Some students don't know anything about it. Some are planning on procrastinating until the final semester of their senior year. And some have already (somehow) completed all of their hours.
So I polled students from all grades to see what they knew about community service. The general response was that students of every grade were sort of worried in regards to places they should go, and it seems that the pandemic has also greatly affected students' ability to get in the number of hours that they need. Here's what some Shorecrest students had to say about community service when I asked them:
"I'm so worried!"
"Community service is so confusing!"
"I totally forgot about that!"
Needless to say, it seemed to be a concern. I also asked my peers exactly how many hours they got, and realized this article was more necessary than I thought it would be when the 8th person said zero.
However, there is some good news. The Shoreline School District has "Community service- 40 hours… Waived for the class of 2022" posted on their website, meaning that seniors don't need community service hours at all in order to graduate. Community service hours may also be waived or lowered for other classes due to the pandemic, but it has yet to be seen.
But for those who do have many long hours of service to get in, where are some good places to go? Here are some of the recommendations I received from the survey: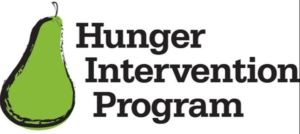 Food Packs
There are many different places to put together packs of food for families around Seattle as well as many food banks and pantries. One place I've gone to a couple of times and really enjoyed was the Hunger Intervention Program, whose food packs go to families of kids in our own district. There's no minimum age to volunteer there. Another place to volunteer, Hopelink, is also locally based, although you have to be at least 16 to volunteer.
Local Libraries
While the King County Libraries are currently not welcoming in-person volunteers, there are many different virtual opportunities to get your hours in, including designing escape rooms or tutoring students. The minimum age is 14. Find out more on the KCLS website.
Pet Shelters
Another hands-on option is working at pet shelters such as Pasado's Safe Haven or Homeward Pet Shelter. Most shelters have an age minimum of 16, but these two do not. Both of these shelters have relatively close locations, and especially if you have a rescue animal, it's a great way to give back to your community.
In a very discreet, unspoken corner, there is a page for community service opportunities. Underneath, it also cites some activities that do and do not count as community service. If you want to know more about that, go check it out or go talk to Ms. Hudson in the career center.
At Shorecrest, there are also several clubs that give students opportunities to accumulate community service hours, such as Interact Club (featured in Shoreline Area News), Care Club, or Key Club. There's also stage crew for the upcoming Spongebob musical, which starts in the spring which is another easy way to complete all of your hours.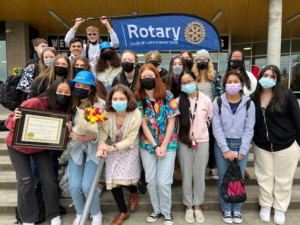 I interviewed some members of the Interact Club, and they all said that it helped them feel much more confident about fulfilling their community service and that "[even though] this is my first year doing Interact… I'm pretty sure I'm close to the 40 hours." Everyone I interviewed seemed to really enjoy being there, saying that: "partially I'm doing [community service] for the hours, but I'm also doing it because I like it."
Club members say they've made blankets for homeless shelters, volunteered at North Helpline, and restored parks. When I walked in to talk to members, they were making cards to send out to senior citizens. Many students also mentioned that they "didn't have to do the paperwork", meaning that the Interact club takes care of their community service forms for them.
Interact club seems like a great resource, and a good way to help out the community, not to mention, they make it sure easy for you to participate in any of their upcoming activities. It's held on Thursdays in room 232 if you're interested in going and is sponsored in part by the Rotary Club of Lake Forest Park. More about that on their website here.
So if you're worried about community service, don't sweat it, especially if you're a senior. There are a ton of opportunities around Shoreline and Lake Forest Park to get in all of your community service hours. And if not for the hours, community service is a great way to help people in your community.
A step by step of how to log your community service hours:
1. Get a community service form from Ms. Hudson in the career center when you know you're going to volunteer somewhere. There should be a bunch of white forms on the wall, but if there aren't, make sure to ask her. You will probably only need one form as you can put multiple different days' worth of hours on the form.
2. Bring the form to the place you're volunteering. When you've filled out the top part of the form (which is just some information about your grade and student email), and you've completed your volunteering session, have the person who runs the service, or the supervisor in charge of the activity sign your form with their name and the number of hours you've completed up to the quarter-hour.
3. You can use this form until it's all filled up, and when you're done, turn it in to Ms. Hudson in the career center. It's as easy as that!