A guide to lesser-known Shorecrest classes
Have you had trouble picking classes because you don't know much about them? Have you looked at the class catalog and found yourself wondering whether the classes are actually as interesting as they sound? Have you wondered whether you should go for that class that you don't know much about, or stick with classes you know well?
Well, this is the article for you! I've collected suggestions from students and teachers of lesser-known or under-rated classes they would recommend, which can be found below, organized to be in the same sections and order as the official class catalog. I also included some official information to help you pick classes where available. This article got very long, so don't hesitate to skip to the classes you're looking for.
A few notes:
Please keep in mind that the students who responded to the survey do not necessarily reflect the entire student body, and one person's experience may not be true for everyone. Similarly, please don't think poorly of a class simply because it isn't listed here; it's quite possible that the people who took and enjoyed that class simply didn't fill out the form. 
I have noted when information comes from the teacher of the class; all other feedback comes from SC students. I've edited responses for grammar and length, and I've removed criticism, as this article is focused on positive recommendations.
If you have more questions about these classes or any others that you might be considering, I encourage you to find the teacher and chat with them! Shorecrest teachers are very helpful and the best source for information about their classes. 🙂
Art
Cartooning
"There were some fun projects and it's even better if you have a friend in your class, as there's a lot of down time."
"It's a very easy class to get extra credit in, as most assignments have the option to get extra credit. It's also kind of hard to get a bad grade in this class; if you just do the assignments, it's an easy A, and added bonus you get to draw for most of it."
Ceramics
"This class is definitely a bit of a challenge, but as long as you use your time wisely you should have no problem getting things done. There's also no homework, which is nice most of the time but can make it difficult if you're behind on a project."
Drawing and Painting
"I was surprised by how much I liked this class as someone who isn't the most artsy. We got to experiment with a ton of different mediums, and I found many of the projects very soothing to work on. The class is pretty independent, so you get out what you put in."
Studio Art
"Ms. King is very flexible and accommodating, but make sure to keep track of your own projects. The class is mixed with AP Art and as someone planning on taking AP Art next year, it is helpful to see what it will be like."
CTE
Marketing
From Mr. Stallings: "This is an open ended class where students control the product advertising, and other business parts of the Scot Shoppe. A lot of self learning and discovery with respect to business and business acumen. This is a hands-on class with a lot of freedom to how the Scot Shoppe is run." (Marketing 2)
From Mrs. Gonzalez: "In Marketing class we learn about business concepts like Promotion, New Products, Finding Customers, plus so much more. If you're interested in starting a business, or how products and services are advertised and sold, then you might like this class. You'll get time to work in the Scot Shoppe (student store) and compete in the DECA Business Club, all as part of the class."
Intro to Health Professions
"It's a really fun class! Especially if you're interested in health care or if you're just looking for the credits. We learn about the body systems and do activities. People who specialize in the health care category or something close also come in to talk to the class about their career. The teacher is also awesome!"
"It's incredibly informative and teaches you so much about anatomy- while also introducing you to a LOT of different careers. We've met nuclear imaging techs, athletic trainers, therapists, nurses, nutritionists, pharmacists- etc. Really great if you want to go into a medical career or are even just considering it!"
Annual (Yearbook)
"Annual is an incredible class for students interested in graphic design, journalism, photography, or simply helping to create the best yearbook and documenting memories for the entire school! No experience is required to join the Loch staff, only a willingness to learn new things. Students who are self-motivated would enjoy being in Annual because there is plenty of independent work time and you can typically choose what you'd like to cover (Sports, Seniors, Performing Arts, Student Life, etc.). As someone who has been in Annual for three years, I highly recommend this class to anyone looking to be creative while building their skillset."
Theater Tech
"This class is easy and fun IF you pay attention and do the work. Some units can be kind of technical and complicated (lighting, for example). Overall it's very fun and hands on, but don't expect to goof around the whole time. I would recommend to anyone who is interested in what goes into making a theatrical production work! Very good class, 10/10."
STEM
Introduction to Engineering
From Ms. Slack: "Introduction to Engineering is a hands-on class where students think about engineering challenges and creatively come up with and build solutions to those challenges. Students are immersed in a "learning by doing" style of instruction where they can be found physically building models individually and with a team. Everyone who takes the class gets to learn to use the laser cutter, 3D printer, and many traditional shop tools!"
Robotics
From Ms. Potter: "Whether you have robot experience or not, you can learn and try something new in robotics class!  Students will be taught the basics, but then have the freedom to create something new that meets each challenge.  Sign up with a friend and work together for the semester!"
AP Computer Science A
"It is easy to understand, and the workload is not large because you're able to do everything in class."
"This class is a good introduction to computer science, not too challenging, fun, and has very minimal work out of school. It looks nice as an extra AP class without adding a massive workload."
English
AP Language and Composition
"AP Lang is for you if you were bored in English 9/10 and want a more advanced English class, enjoy thinking about how authors use language to trick you into agreeing with them, or want to have heated discussions about very random topics. Be aware that there is a lot of writing in this class; you'll have to write an essay at least every few weeks."
"Mrs. Haines has to be my favorite teacher and I'm positive this can be said by many students. She makes class fun and genuinely loves teaching her students. She's a super down to earth person who makes class very enjoyable. AP Lang in itself is not very hard, it's the most manageable AP I've taken and you hardly get homework. Keep in mind that you will be writing a handful of essays, they may seem intimidating but once you've got the hang of it you'll do great!"
Drama
"Nothing to work on at home, an easy art credit, as long as you don't have severe stage fright. We get work time in class to practice and perform, and there are little to no canvas assignments. I recommend a 1-inch binder for keeping scripts and a few notes all in one place. For those looking for improvised acting (improv), this class is not right, but otherwise, a wonderful class to take."
"This class is a great way to express yourself because Mr. Kidd deeply encourages self knowledge. It's a great gateway into learning how to act while also building important social connections with the classmates around you. This class is helpful for not only acting but navigating high school. The discussions that are had in the classroom are always leaving a lasting impact."
Leadership
Intro to Leadership
From Ms. Phillips: "No experience necessary to take Intro to Leadership. Anyone can be a leader because anyone can serve. We work on team building, building a positive and inclusive school climate, creating projects to make the school a better place, while meeting new people and getting connected to Shorecrest. It is a FUN class where you get to work on your own self-growth while making good friendships with other students."
Math
Here's a helpful flowchart on choosing math classes, courtesy of Ms. Butorac and the math department: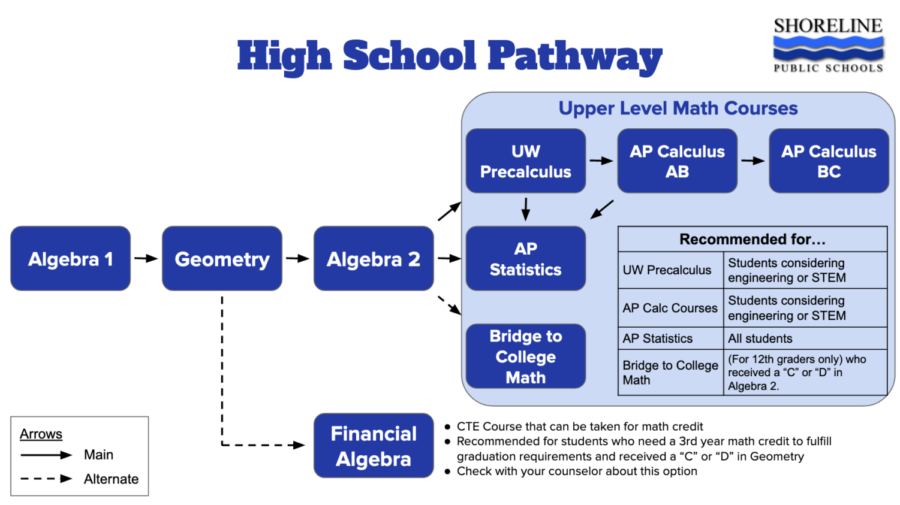 Bridges to College Math
From math teachers:
"Course is for students who are interested in college but scored a level 2 on the 11th grade Smarter Balanced Assessment.
Students who earn a grade of "B" or better in the Bridge course in 2nd semester will be granted automatic placement into college-level (non-Calculus) mathematics courses at all 34 of Washington state's community and technical colleges. The placement will most likely be in "Math in Society". This class offers a unique agreement in Washington that could help alleviate the need for students to take pre-college mathematics courses during their freshman year in college.
The course addresses key learning standards from Algebra I, statistics, geometry, and Algebra II, coupled with experiences that build flexible thinking and a growth mindset. Students in the course will be actively engaged in mathematical reasoning through real world tasks and classroom discussions focused on building conceptual understanding and mathematical skills. All of these components have been identified as important foundations for the workforce and college."
Pre-Calculus
From math teachers:
"Applies Algebra 2 concepts to word problems.
There is some reading, but mostly calculating.
Helpful class if you are planning to go into a STEM career.
Required in order to go on to AP Calc or take Calc in college.
Option to sign up for UW credit (costs $375, normally $1725 for the same amount of credits at UW).
This class is challenging so be prepared to work hard.
If you got below a B in Algebra 2, this may not be the class for you."
AP Statistics
From math teachers:
"Calculations are minimal and calculators are always allowed. Algebra mistakes do not haunt you over and over again in AP Stats.
There is a lot of reading and writing. Subtleties in the language create important differences in the problems. There is a lot of vocabulary.
The class involves a lot of applying common sense and reasoning to real life problems. It is very closely tied to real world things you see everyday, like surveys, statistics in the newspaper, and judgments about what you see in the world.
Most college majors require a basic statistics class. Passing the AP exam meets that requirement.
AP Statistics can be taken any time after Algebra 2 and can be taken concurrently with another math class."
From students:
"A lot of the content is really useful and much more applicable to real life than the content in most other math classes I've taken. If you need a semi-advanced math class and don't want to take calculus, stats is definitely a good option and I would recommend it. Be aware that there's a surprising amount of reading and writing, though much of it is just remembering sentence stems to fill in. If you're the kind of person who likes math because it's all numbers, take calc instead."
"This is definitely my favorite math class I've ever taken. It's definitely challenging at points, but it's almost rooted more in reading comprehension than in math. To be fair, I'm only halfway through the class, but so far I enjoy it way more than I expected. It's a good math class if you aren't a math person."
A handout with more information on math options and other STEM electives can be found here.
Music
Mixed Choir (Treble Choir)
From Mr. Hendrix: "Choir students learn the fundamentals of healthy singing technique, how to read music, and how to sing in harmony. Shorecrest choirs perform music from diverse genres and cultures and perform regularly throughout the school year. You do NOT need former singing experience to join choir. Shorecrest choir students range from total beginners to pros who have been singing for years. There's a place for anyone who wants to learn how to sing! Speak with your counselor or Mr. Hendrix if you don't know which class to register for."
"Highly recommend this class/elective. We never really do assignments and if we do it is in class. Accommodations are readily available if you need them for concert dress or if you struggle with mental health or a disability. He is really good with pronouns and is a very nice and understanding teacher. The environment in choir is so wonderful and a community that is really nice to be a part of. I have made so many friends and it's a nice break in the day. It's a good use of a year-long elective (but it can also be a semester)."
Symphonic Orchestra
From Mr. Adamo: "If you've been in orchestra before, but have not been in it for a while, you are always welcome to rejoin. We'd love to have you back!"
PE
Cardio Fitness
From Mrs. Goenen: "This is a fun class for students who don't like running, but want something a little more active than Walking and Yoga.  Activities in this class include: step aerobics, cardio dance, HIIT workouts, using the treadmills and ellipticals, Zumba, pilates, and other cardio activities."
Walking and Yoga
From Mrs. Goenen: "This class provides daily opportunities to socialize with friends while walking in Hamlin as well as opportunities to experiment with the benefits of yoga."
Science
Chemistry
"I really love this class. Mr. Wallace really cares about what he is teaching and is obviously very passionate about what he does. He is very helpful and will work hard to make sure you understand by explaining it in different ways and giving you a variety of resources. Some of the tests are difficult but if you study well you will be fine. Also he is very lenient with retakes and you will be able to have a chance with every test to try again. It's a super interesting class and the labs are super fun. Honors options are typically not much more difficult than the normal work and are extensions of the test or separate extra assignments. You only need 6 out of 8 in order to get the credit. Highly recommend this class. Have fun!"
"It seems like a scary class but it's honestly one of my favorites. You learn a lot of interesting topics and the equations feel like a game or puzzle you get to solve with classmates. It's also helpful to take it at least once before college since there's a high chance you'll need to take it again. 🙂 I'd recommend this to the people that enjoy science, math, or those who just want a fun challenge!"
Anatomy and Physiology
"Lots of dissections and group work, but most of the assignments are really creative and entertaining!"
AP Environmental Science
From Ms. Arnold: "If you've ever thought that taking an AP science class would be too difficult, please think again.  If you want to know how biology, chemistry, history, and politics can be intertwined, this is the course for you.  You'll leave understanding more about the environment and how we are connected to it, and what we can do to protect it.   There are lots of hands-on activities, both inside the classroom and outside. The AP exam is optional, but can earn you college credit if you choose to take it and score well."
AP Physics
"It really is not as hard as people think, there is very little homework and the math is not that hard. There are also many opportunities to retake and get help if you are struggling."
UW Astronomy
"Astronomy has a pretty chill, relaxed pace, but it's never boring. You get to learn about FASCINATING concepts in astronomy and do fun projects. We get lots of work time to finish projects, so if you stay on top of your work, you shouldn't have much homework. If you think space is super cool, want a science class more interesting than non-honors Chemistry/Physics but less rigorous than an AP class, or want to grab some easy college credit, this is the class for you. Also Ms. Steward is fantastic!!"
AP Biology
From Mrs. Raman: "If you are thinking about going into a medical field of any kind, if you are interested in Biology or are planning on majoring in a biological science in college, then AP Biology is  a great class to take! It is intended to be an Introductory College Level Biology course, and will give you an edge when starting out in college. We do many labs and activities throughout the year, and cover many of the same topics as Biology class, just in more depth and detail. Come talk to Mrs. Raman if you have any questions!"
Social Studies
AP World History
Note: I know APWH and APUSH are not technically lesser-known classes, but I'm including them here to give you more information if you're trying to decide between AP and normal history. Also, there were a surprising number of responses for APWH, so I've cut them down to the unique parts to keep this section manageable. Thanks, sophomores 🙂
"Mr. Bruns is really good at preparing you for the AP test! There's a lot of "optional" homework that if you don't do, you'll still get full points, but you won't get curve points and won't learn the content, etc. This means a lot of late nights, but I do feel a lot more prepared for the test. Very unique activities and overall enjoyable class."
"This class is a challenge but is very rewarding. The students who take the class are there because they want to learn, which makes it a refreshing change from other general classes."
"If you currently have an A or B in history class, enjoy reading, and want a challenge, you should definitely take this class."
"AP World History is very dependent on your work ethic."
"The AP in the name tends to scare people away but I can assure you that if you don't mind taking notes and learning about history, this class will be a breeze. The workload might be intimidating for the first 2-4 weeks, but you'll get used to it. I wouldn't recommend this class for people who don't like taking a ton of notes or writing essays."
"It's really hard at the beginning but it gets better. The test questions aren't what I'm used to (they're more like extending your thinking rather than recall) but Mrs. Waugh gives a lot of practice and helpful resources. The workload can be a lot, but it's predictable, which is good, and not too hard, just time consuming."
"Was worried about taking APWH but Mr. Bruns has been a really understanding and kind teacher and I have found myself actually enjoying this class. The workload is a little hard but the class itself is fun and I've learned a lot."
AP US History
"APUSH has a ton of homework, but if you're willing to put in the work, it's a really interesting and fun class. I've found learning about American history to be very useful for understanding how our country has gotten to where it is today. APUSH is similar to APWH in a lot of ways, so if you liked that class, I would 100% recommend taking this one. You can also absolutely take it if you didn't take APWH!"
History in Film
"You spend a lot of time just watching movies or clips, very relaxing and fairly easy if you pay attention. I recommend it to people who have a loaded schedule and want an easier class as a break."
Social Psychology
"This class is a great way to learn about how humans interact. We do a lot of projects and work in groups. And there's also a lot of talking and explaining so you get to know the concepts very well."
"The information is genuinely important and I find myself using it, or at least thinking about it, fairly often. It's also just fun and interactive and will have you questioning yourself and others. Give it a try!"
Ethnic Studies
From Ms. Fresco: "Ethnic Studies is education that liberates and recreates. It is a deep, embodied and fully integrated internal and external examination and contextualization of one's self, story, and identities within a tapestry of others, and examination of the interwoven threads over time and cultures. It is the belief and practices of making visible the histories that have been intentionally hidden with the purpose of creating fuller stories and current experiences and realities. Ethnic Studies is from a place of positioned restoring, truth telling. This is for students who want to have a richer picture of history and the society that surrounds us. It's about understanding ourselves, knowing our history and moving us forward in society."
AP Comparative Government
From Mr. Vlahovich: "This is a 1 semester social studies elective that studies and compares and contrasts the political systems and societies in 6 countries: Mexico, United Kingdom, Russia, China, Iran, and Nigeria. It is a great course that gives you an appreciation for the world around you, a better understanding of politics (including here in the US!), and the ability to think critically about major issues going on in the world. This is great for students who are interested in history and political science. It is only a semester (semester 1) so there is a gap, but we prep for the AP exam second semester. It is a fast paced course as well."
"This was a very fun, interesting, and engaging class. Much of what we studied related to current events and we had many interesting projects and simulations."
World Language
Spanish
"This class was definitely difficult and requires a good handle on the Spanish language. However, if you're passionate about the language, it can be really interesting and engaging. It's also nice that class sizes are usually smaller, so there are more opportunities to connect with your classmates and get one-on-one help. Overall, this class isn't anything to be scared of as long as you're willing to work hard and try your best." (AP Spanish)
"I think people are intimidated by this class, and I would say… don't be. Yes, it is challenging, and you do need to put in the work, but if you are willing to work at it, it's totally doable. This class made me so much more comfortable with Spanish, especially getting the gist of an idea without understanding every word that's being said. If you are a dedicated student who wants to really up your Spanish skills, I would strongly recommend taking this class. It can be hard, but the rewards are worth it." (AP Spanish)
"One should take the class if one has enjoyed the subject, is willing to spend about 10 minutes a couple times per week reviewing vocab, and is willing to be pushed a bit out of one's comfort (talking in Spanish), it will be a very rewarding and fun class. And, it will definitely get easier as time goes on. It took me about a month." (Spanish 4)
French
"Madame Storck is a helpful and kind teacher, and makes learning French fun and you are often able to add your own creativity into assignments. I found myself smiling and laughing a lot in this class. I felt very connected to my peers, as we often worked together. The workload is usually pretty light, and you will see much improvement in your French skills (obviously ;)) Highly recommend French classes."
"Madame Storck is AMAZING, she has been my teacher for 3 years and truly makes connections with all her students. She is an awesome teacher who puts a lot of effort into making sure her students are having fun in class while also learning. 100% recommend!"
See also
Shorecrest's Lesser-Known Electives by Avery Kellogg